We are a participant in the Amazon Services LLC Associates Program, an affiliate advertising program designed to provide a means for sites to earn advertising fees by advertising and linking to Amazon.com.
Thank you for stopping by! I'm really excited to bring you an amazing experience I had with my family. Surveyors lookout tower, is a fire lookout tower for rent in Idaho. It was a formerly used as a fire lookout tower and is nestled in the rugged Idaho Panhandle National Forest. Now it's available to rent through the U.S. Forest Service.
Please, feel free to click any photo below to see it larger. I have lots of photos of Surveyors Lookout Tower, probably too many!
Have you ever wanted to camp in the back of a pickup truck? Check out my entire article all about camping in the bed of your truck, click here!
Deep in the beautiful North Idaho wilderness stands a tower at the top of Surveyors Peak. Coming around a corner on a very bumpy and winding dirt road you catch a glimpse of the tower. It has been so long since you have seen any man made structures it almost makes you gasp. We were still a few miles away, but seeing it standing watch on top of the mountain provided us all with a building excitement to reach our destination.
Of course, the last mile to Surveyors Lookout Tower was the bumpiest and slowest we had encountered yet. At this point, we had been in the car for almost 3 hours. We camped on the St. Joe the night before so that we could get a good jump on our trip to the tower. The drive from our campground was about 21.5 miles, 20.5 miles of that being winding bumpy dirt road. We all waited impatiently in anticipation as we made the slow climb up to the fire lookout tower.
We finally reached what seemed to be the top, turning the corner we were able to see the entire tower up close. Even our 3 year old became overwhelmed with excitement as we approached our new home for the next 3 days.
We jumped out of the truck and just kind of stared at the tower as it loomed over us. The three  year old broke the stare and started running for the stairs. We followed Cam as he led us to the top. Three flights of stairs, the first two not so bad, but the final flight was steep and narrow.  Walking up the stairs you started to notice the height, you felt the butterflies in your stomach start to flutter a bit. Reaching the top was a very fulfilling moment. You had 360 degree views of the wilderness around you. It was beautiful. I'm not exactly sure how to explain the feeling you have once you reach the top and just stop to stare at the views around you.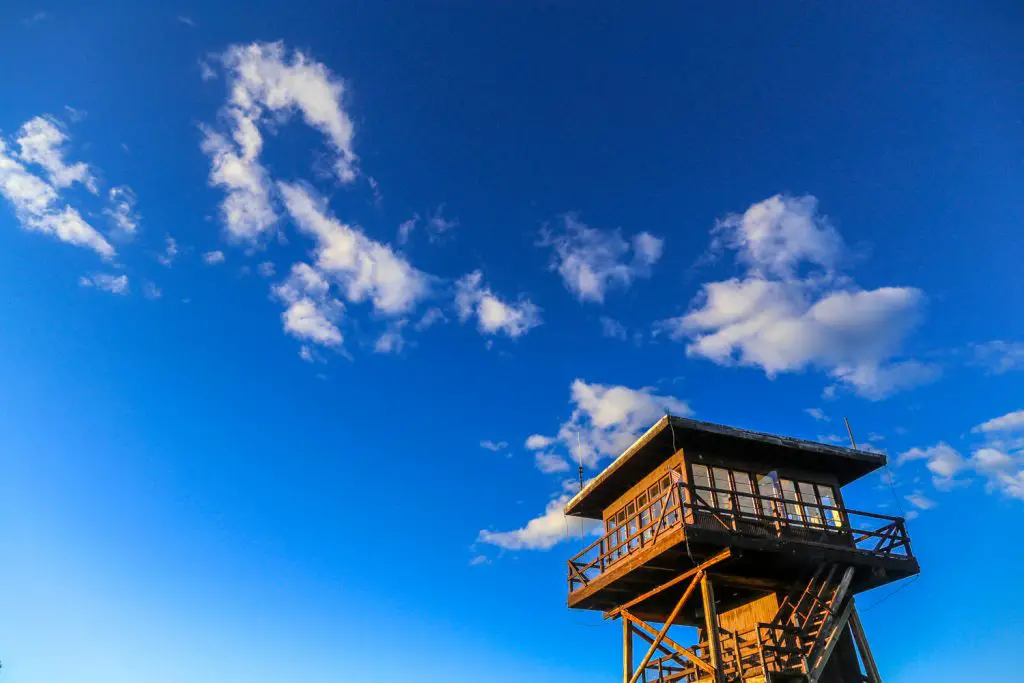 Of course, the views were quickly interrupted by Cam wanting to explore all around the tower. Us being a little over cautions felt we had to stay on him like a shadow or he would fall off. There was protective fencing that went all the way around the top deck, but we still felt the need to stay with him. Finally, we opened up the pad lock and entered Surveyors Lookout Tower.
The inside was just how I imagined it. It had an older rustic feel to it. There were a couple of beds with pads, a table, stove and a map in the middle. The entire top is windows for easy views looking out in any direction you please. They had the tower stocked with board games, things to do in the area, cook ware and many other amenities to make your stay more comfortable. Don't get me wrong, your not checking into a 5 Star hotel, but that's certainly not what we signed up for. My wife and I made the comment probably 20 times while we were there, "I would stay in this over a nice hotel every time!" And I stick by that assessment.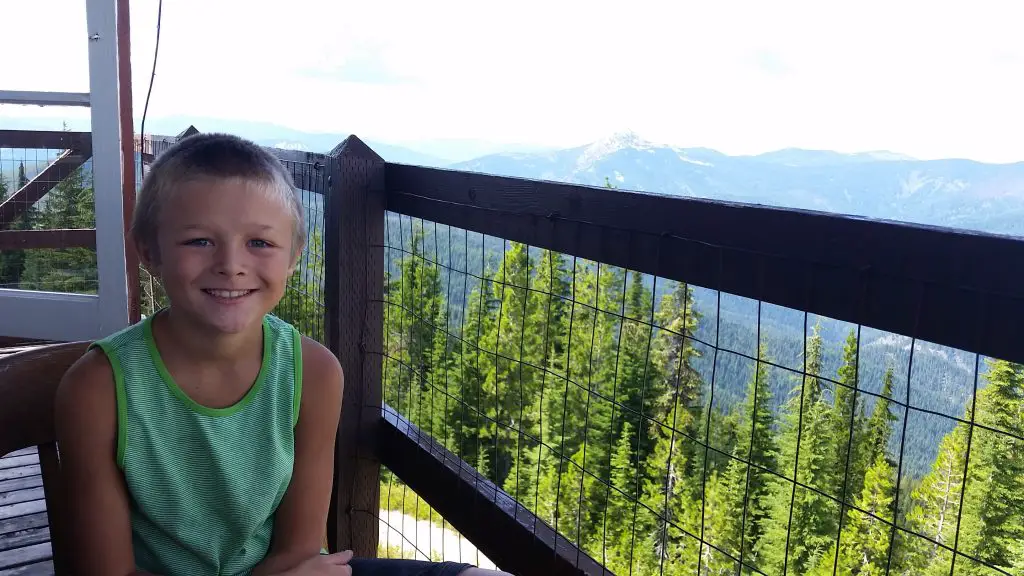 Probably my only complaint from the entire trip, the beds were bad. Let me rephrase that, the pads they had were bad. They were not really beds. I'm not sure what was on the inside of those pads, but I think it might have been concrete. We actually had our air mattress from camping the night before and put that on the floor to accommodate my wife, me and Cam the 3 year old. The kids used the pads and even though they were uncomfortable, they didn't complain and slept like rocks.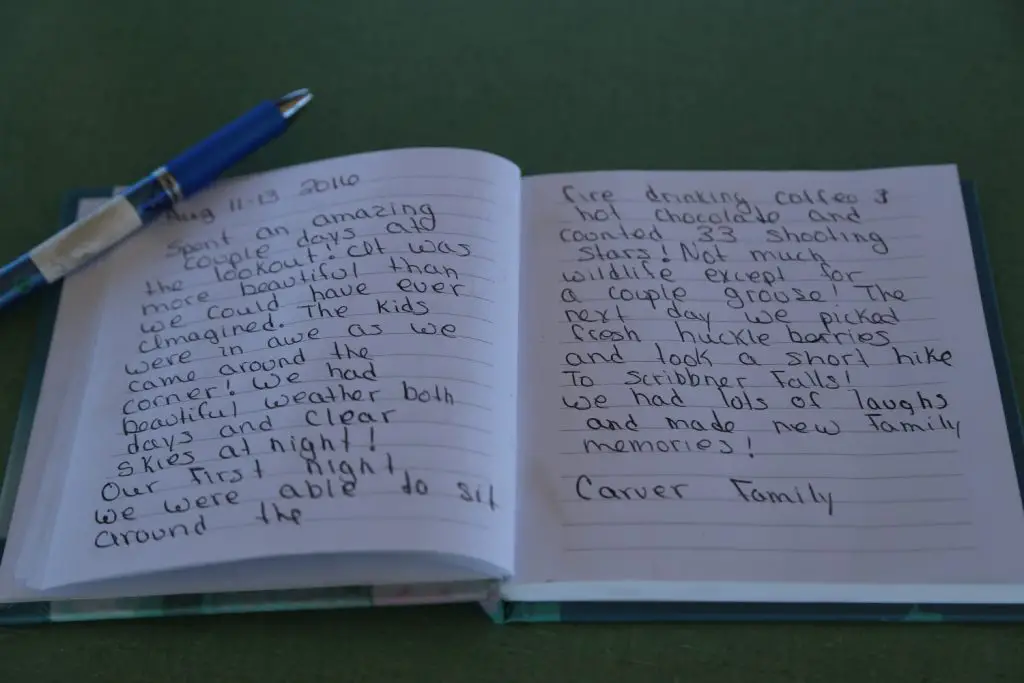 One of the more compelling things inside the tower was the log book. People shared their stories and experiences for the past several years. Going way back. It was amazing to read stories from people who stayed in the tower as kids working for the forest service who came back to stay in it as a guest. Some stories were touching and emotional while some were funny and clever. One story that sticks out in my mind is about the family that was stuck in the tower because of bears at the bottom. After reading the story, we realized it was more of a joke than anything, but it was still funny to read and enjoy. If you ever stay at one of these towers, please read the log books. You will not regret it.
There was a mysterious stool in the tower that had glass on the bottom of it. The glass was actually old insulators that used to sit on top of electric lines.  I recognized them immediately. When my father was alive he collected old bottles and other old items. He also had insulators in his collection.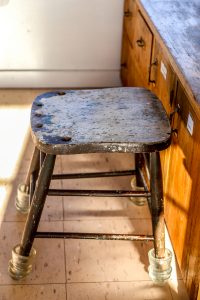 I remember him leaving them on top of our old wood shed to help them turn purple in the sunlight. I thought it was strange seeing these on the bottom of a stool. We later read in the log book (and on a sign in the tower) that they were literally used for insulating. In the event of a lightning storm, you are supposed to get on this stool.
When the lightning strikes you are further insulated from the electric shock. The tower itself was grounded, but this stool added further protection.
One woman's story in the log book spoke about her summer she spent volunteering at Surveyors Lookout Tower well before it was a fire tower for rent in Idaho. She spent her time searching for fires after lightning storms. She said she used to send her child down to her car while she would stand on the stool searching in all directions for smoke from the lighting. What an exhilarating and amazing experience for her. Just another neat tidbit we encountered up there.
The bathroom was a minor inconvenience being several hundred of feet away from the base of the tower. We are frequent campers, so this felt natural. The bathroom was surprisingly well taken care of. They had a bag of lime in there with a sign that asked that you put a scoop in on occasion during your stay to help dissolve the waste.
One of the big highlights for us were the huckleberries. Were no strangers to huckleberries, we actually pick several gallons every year. We have the spots that we go and pick every year. This was a new spot for us. The huckleberries up there were pretty amazing. They were abundant almost everywhere you went. They had been good right at Surveyors Lookout Tower, but have been picked over with guests staying there this summer. The first thing we did after we were settled was walk down the road and pick some huckleberries. It was amazing being so close to so many huckleberries.
Ever wonder what the difference between a huckleberry and a blueberry? Wonder no more, check out my Huckleberry Vs. Blueberry below. This includes identification, taste, location and even nutrition!
Difference Between Huckleberries and Blueberries Click Here!
Also learn how to identify huckleberries below!
How to Identify Huckleberries Click Here!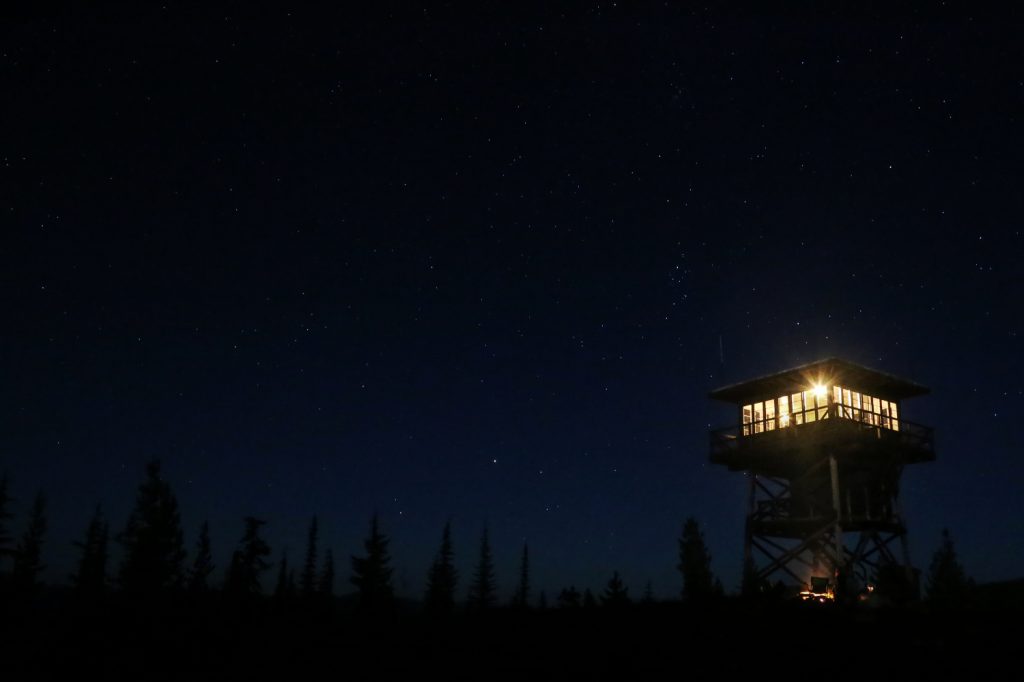 The first night was a night that I will NEVER forget. We were lucky enough to stay at Surveyors Lookout Tower at the apex of the Perseid meteor shower. This was more lucky than anything, but it made for an experience that I don't know will ever be duplicated. From the 11-12 hour the first night we spotted well over 40 shooting stars. It was truly as magical of a night as I have ever been a part of. Even after we went to bed we could look out the windows and watch stars falling from the sky as we drifted to sleep. I wanted to capture more images of these shooting stars but I decided to live in the moment and just enjoy it with my family.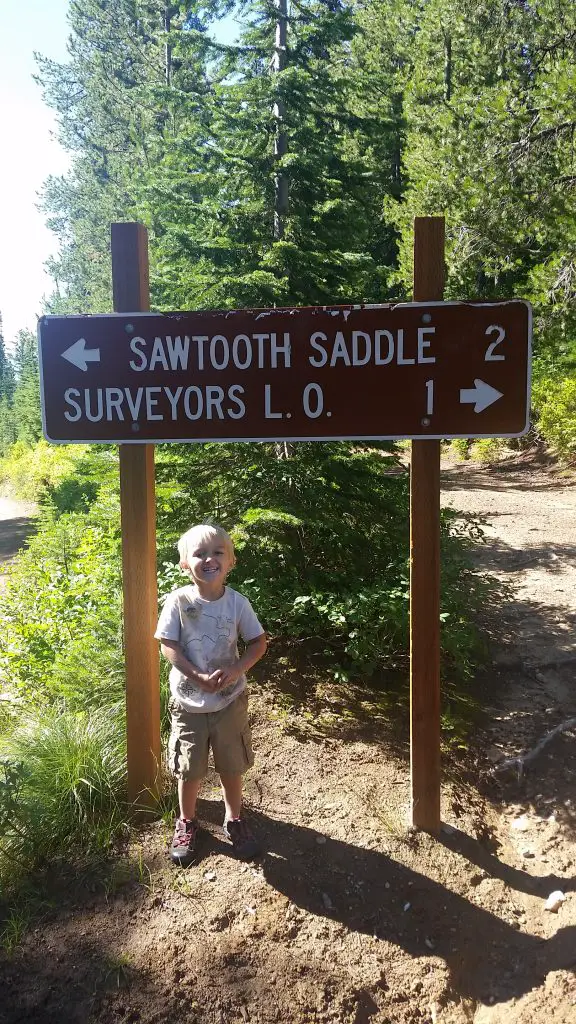 Sitting around the fire, laying beside my daughter just as my mom used to lay next to me while star gazing, may be the most memorable moment of my trip. Click the link to learn more about the Perseid Meteor Shower!
The second day we decided to drive down the road about a mile to a trail head. We used directions provided to us from a flyer inside Surveyors Lookout Tower. We found the trail head and hiked for about 2 miles in search of a waterfall. Unfortunately we were not able to find it, I think we found the spot but it appeared that the creek was dried up. It was still a beautiful hike and nice to get out and get some exercise. We spent the rest of the day relaxing, enjoying the views and exploring the area right around the tower.The next day we got out and did some more huckleberry picking. We drove around the mountain roads, and stopped at several different places to pick berries. I even let my son Connor and daughter Cailyn drive my truck around on the dirt roads. Connor is 9 and Cailyn is 11. They both thought that was pretty amazing. Cam wasn't going to let his brother and sister out do him, so he gave driving a shot too. The hardest part of the trip was getting him back into his car seat!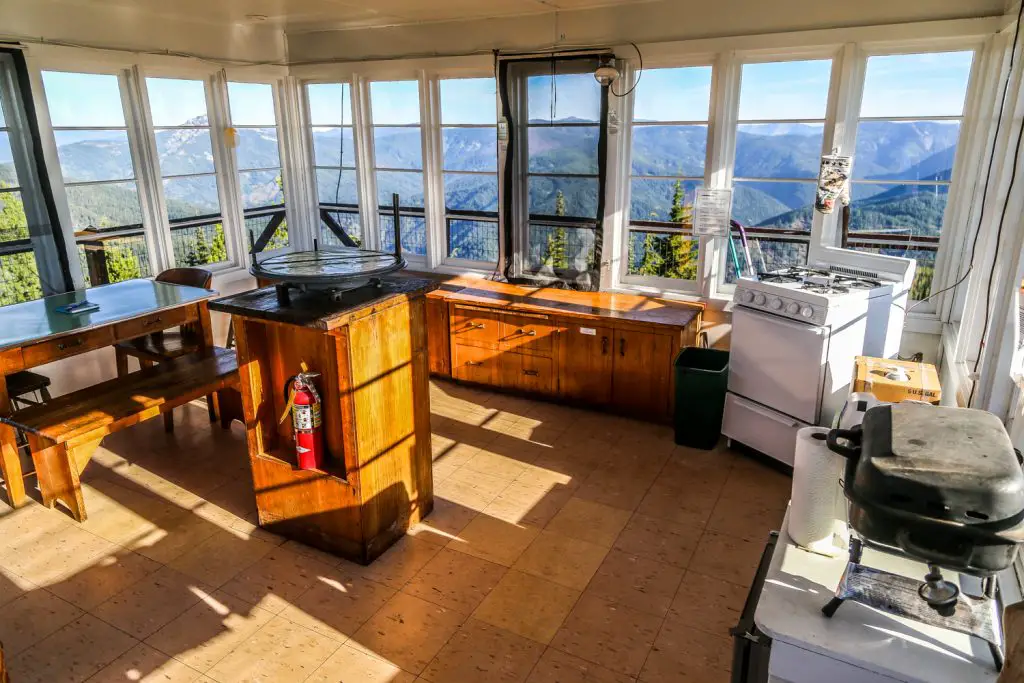 I found myself thinking about my mother and father almost constantly as I spent time in the tower. They brought my sister and I camping on the St. Joe and little St. Joe "Little Joe" river many, many times growing up. My mom and dad were also avid huckleberry pickers. It's hard to spend time in an area like this and not think about them.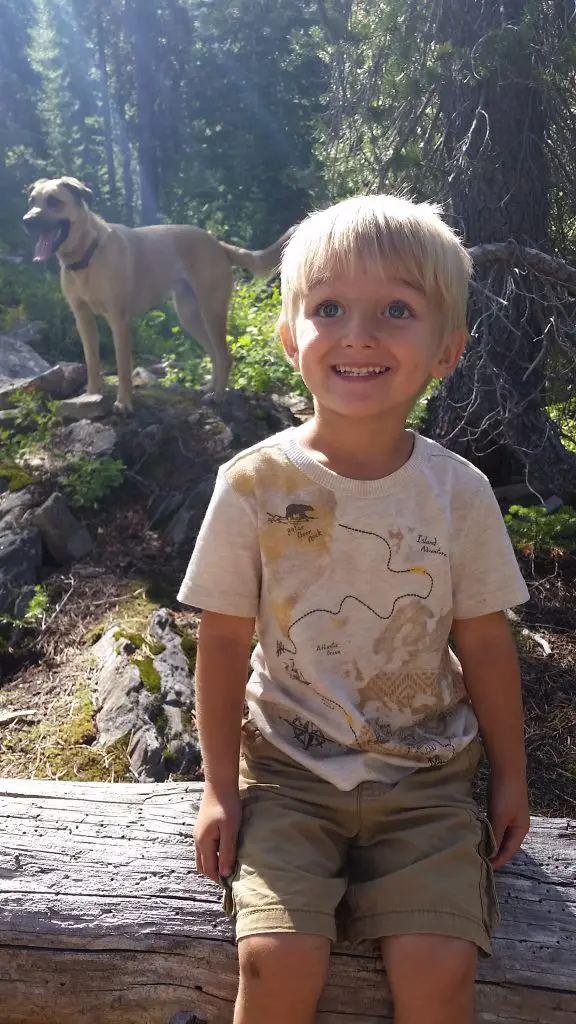 I wish I could talk to them now and let them know how thankful I am for the way they brought me up. They passed more on to me and left more of an impact than they could have ever imagined. A lifestyle that I am now passing on to my kids as they grow up. I would give anything to have a weekend with my mom and dad at this lookout tower. I know my mom would have absolutely loved this fire tower. I recall spending hours and hours with my mom and dad just gazing at the stars at night while camping. They would have loved to have witnessed that meteor shower.
Overall, the experience that Surveyors Lookout Tower provided us was unique and nothing like I have experienced before. I should note that I have been camping since I was a baby. My parents basically spent all summer in the woods. Even after all the time I had spent in the woods, this still had a very unique and special feel to it. I want to give a HUGE thanks to the US Forest Service for maintaining this beautiful fire lookout tower for rent in Idaho. They do such a wonderful job, you can tell they put a lot of hard work into keeping these in good working condition. And we appreciate it so much. If you would like to check Surveyors Lookout Tower or another in fire lookout tower rental in Idaho or surrounding states go to www.recreation.gov for more info!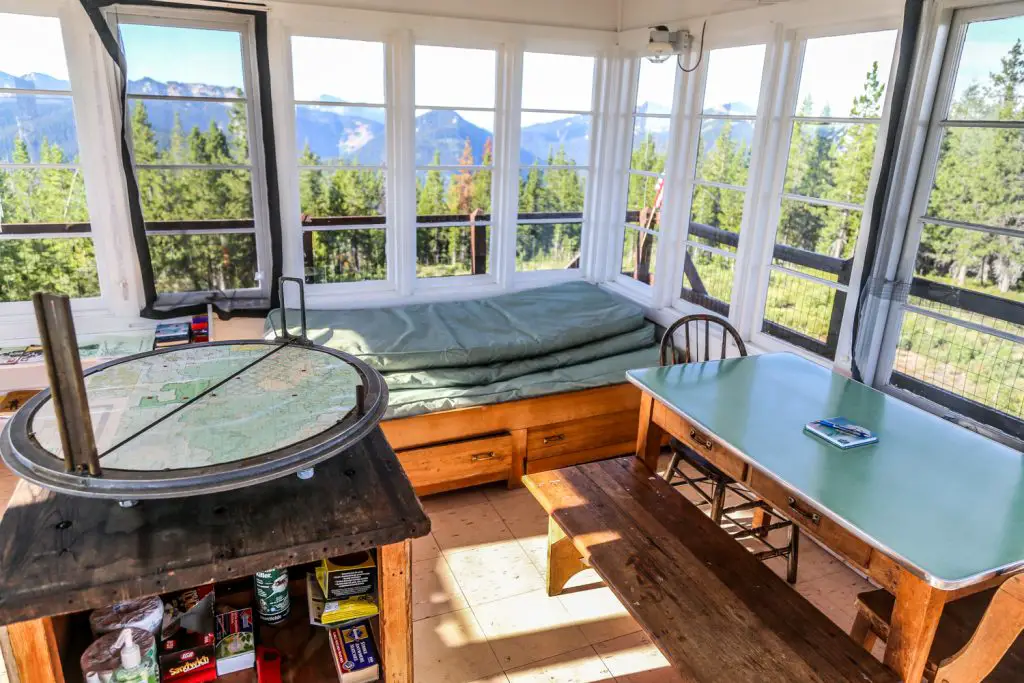 It was incredibly hard to leave. Leaving the woods behind to return to our regular jobs and life is always hard, but Surveyors Lookout Tower made that especially difficult this time. As we drove away leaving the tower out of sight our three year old Cam sobbed. We explained that we had to share the tower with others and give them a turn to stay there. He was not thrilled with this idea, he made it clear he did not want to share "his" tower. I think he had the hardest time coping with leaving the tower behind. He still talks about it often and asks when we will be returning. The fact that it made such an impact on him at only three should tell you everything you need to know about the truly incredible experience it provided.
I know I mostly rambled in this post about our personal experience, I apologize if you reached this searching for more specific info about Surveyors Lookout Tower itself. Please visit the link below to see more specific info including directions and how to book!
Surveyors Tower Lookout Information.
If you made it this far, I applaud you! Thank you for taking the time to read this post. This was a very memorable experience for my family and I, and I hope that others out there are able to experience the same thing. Check out the Forest Service site and see other options available. You might be surprised at how many lookout towers and options are available.
Please, sound off in the comments below if you have any questions or want to share your experience with Surveyors Lookout Tower. A beautiful fire lookout tower for rent in Idaho.