We are a participant in the Amazon Services LLC Associates Program, an affiliate advertising program designed to provide a means for sites to earn advertising fees by advertising and linking to Amazon.com.
Today were going to talk about a Huckleberry Vs. Blueberry. Are huckleberries and blueberries the same thing? What is the difference between huckleberries and blueberries? I've been picking and eating wild huckleberries since I was a small child. My parents would haul us kids into the remote wilderness of Idaho and Montana and we would spend many days of the summer picking huckleberries. Now, I bring my kids out and do the same, passing on a tradition that goes a long way back in my family.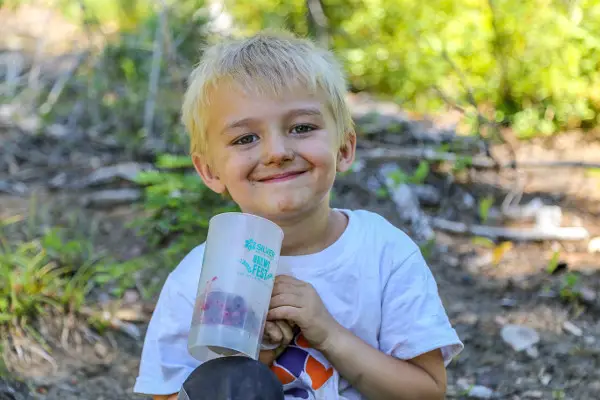 Wild huckleberries are hard to get but completely worth it. Humans have figured out the trick to growing and  harvesting blueberries, but haven't quite figured out the trick to wild huckleberries. The facts that they can't be mass produced is what makes these little berries so special. They can be expensive to buy, but that is because they are so hard to find and pick.
Today, I'm really excited to answer the question for you, Are huckleberries and blueberries the same thing? Lets get to work on explaining huckleberries vs blueberries. I'm going to try and touch on every category when comparing huckleberries and blueberries. We will go how they are different on a scientific level. We will also talk about how to identify the two different berries. 
So, to answer the question… What is the difference between huckleberries and blueberries? Many things, taste, locations, domestic vs cultivated, the way they look and even nutritional value. We are going talk about how huckleberries and huckleberries are different. They have many differences but also have a lot of things in common. Lets really dig deep into huckleberry vs blueberry below!
To get things started, we are going to go over identification. I want to cover everything from nutrition to identification to where huckleberries and blueberries can be found. If you really want to know the difference between huckleberries and blueberries, everything you could ever wonder will be in this guide. 
Also keep in mind that from this point on, when I refer to huckleberries it's referring to wild huckleberries. The most common wild huckleberries I pick are the Wild Coastal Huckleberry or Vaccinium deliciosum piper, the Mountain Blue Huckleberry or Vaccinium ovalifolium and the Red Huckleberry or Vaccinium parvifolium Smith. These all grow in Northern parts of Idaho, Washington and Montana.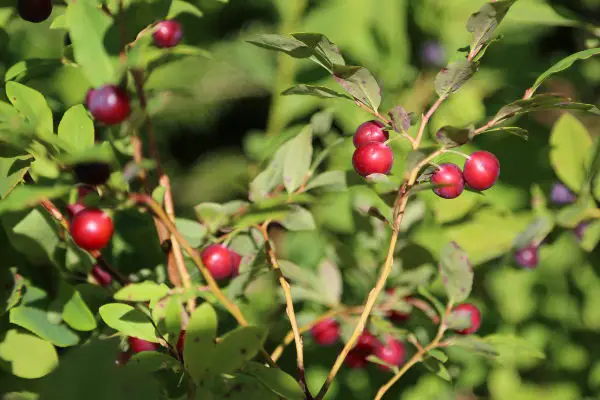 Huckleberry Vs Blueberry Identification
One of the most important things to consider is huckleberry vs blueberry identification. You can determine just by their identification that they are quite a bit different. You will see many differences in these two berries but you will also see some things that are pretty similar. When considering the difference between huckleberries and blueberries identification is a big one. I'll break each berry down below. 
Wild Huckleberry Identification
WARNING! Please Read This First
It can be dangerous to pick and eat wild berries in the forest. It is strongly recommended that you do not eat berries off the bush your first time out. Pick some and bring them back to have someone identify them. Once you have identified them you can be more confident in your ability to do so for future outings. Eating poinsonous berries can lead to illness and even death. Please do not pick and eat wild berries unless you are very familiar with what you are picking and eating.
Once you know what to look for, huckleberries are actually really easy to identify. The nice thing is, they don't really look like any other berries. They are hard to confuse, once you have seen them. There area  few other berries that resemble them a bit, but none that look exactly like them. Please take a look at the photo of the wild huckleberry I took below. It's zoomed in so you can see it.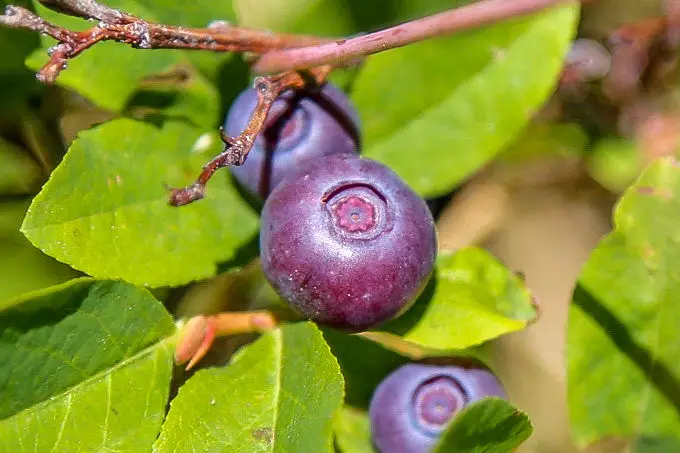 The top of the berry is the dead give away. Especially if your trying to figure out the difference between huckleberries and blueberries. You will see below that blueberries are quite a bit different looking at the top of the berry. 
The berry itself has a round indentation with another smaller circle. You can see another one below. The one below is a slightly different shade of purple but both are wild huckleberries.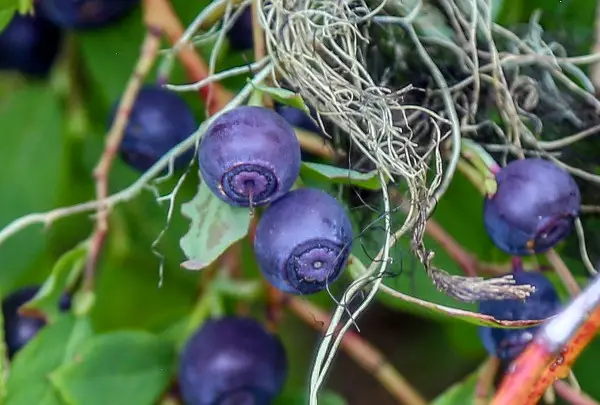 Wild huckleberries are the only berries you will find out in the wild that make that distinct shape. If it doesn't have that shape, it's probably not a huckleberry. If you are ever uncertain, pick the berry and bring them back with you before eating. Have someone confirm they are huckleberries, just to be sure!
You have much less to worry about in the risk department of identifying blueberries. Odds are, where you have found your blueberries there is also a sign and a price to help you. Blueberries are mostly found either in back yards or at farmers markets and grocery stores. You don't typically have the same concerns with identifying blueberries as you do huckleberries.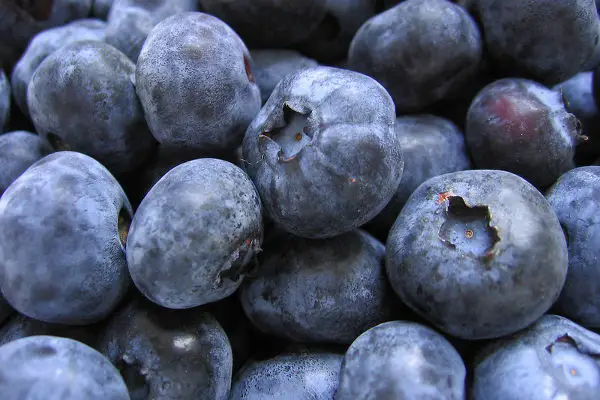 Either way, I wanted to take this opportunity to show you just how different these two berries are. If you look at the photo of the blueberry below you can see that the top is quite a bit different than a huckleberry. 
The top looks more like a bullet exit hole. Typically, blueberries have little flaps at the top that peel out. Imagine a bullet entering the other end of the berry and exiting, that's what the top of blueberries look like. See another example of a blueberry below.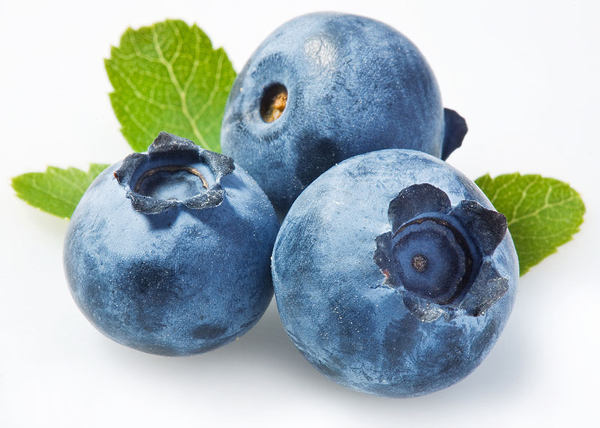 Wild Huckleberry Bush Identification
Now that we have identified what a huckleberry looks like vs a blueberry, lets take a look at the bush they are on. Lets stat this off by taking a look at a huckleberry leaf close up.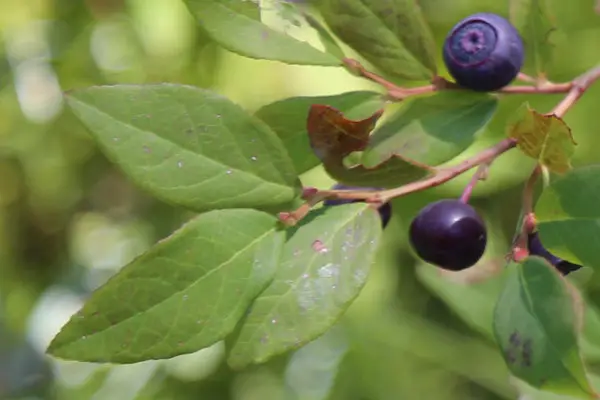 Wild huckleberry leaves are pretty boring. You can see the edge of the leaf is pretty flat and doesn't have much shape. I have another photo below that shows the huckleberry leaves a little better. They are a bit damaged but it's not as blurry. You can also see the way the veins run through the leaf. Huckleberry leaves are a little boring, but that also makes them easy to identify.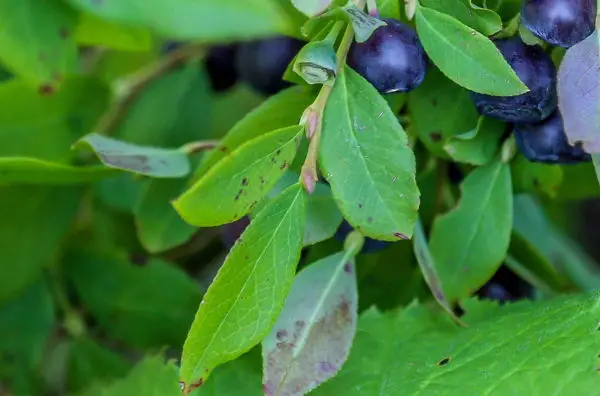 Also, another cool part of the photo above is you get a shot of a huckleberry that is not ripe. It blends in with the leaves. It's small and still green. It's not uncommon to see several ripe wild huckleberries on a bush with a few that are still not ripe. 
One more photo for you is of a wild huckleberry bush from a bit of a distance. The bushes range in size quite a bit. I've seen some that are only 6 inches tall with berries and I've seen some almost as tall as me, around 6 feet in height. The size of the bush is not a great way to identify them.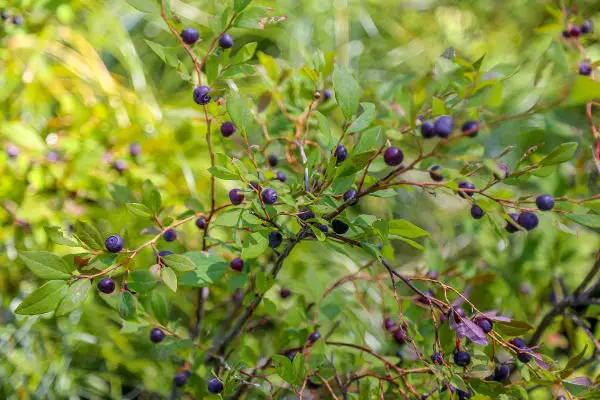 Check out the video below to see  how to identify them. You can also see the area we were picking at. And yes, that is really us! If you can, subscribe to our Youtube channel for more great huckleberry videos this summer! Plus check out our other adventures!
Blueberry Bush Identification
Let's take a look at a couple of close ups from my blueberry bushes in the back yard. I recently went out after a light drizzle and snapped some shots. Below you can see a close up of the leaf, it's not all that different than a huckleberry but they do have a thicker waxy feeling to them over the huckleberry leaves.
It's harder to see over a photo, but if you ever notice a blueberry bush at a nursery or farmers market you can see what I mean. Another thing to notice is the edge of the blueberry leaf has nothing going on, it's pretty much just smooth. A huckleberry leaf has some really small edges but the blueberry is just smooth.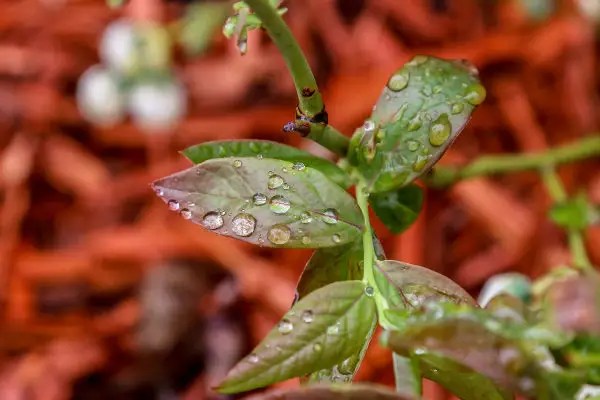 Below is a good look at an entire blueberry bush. It looks kind of similar to a huckleberry bush but you can see just how different the berries are. They are usually a little larger and a lighter blue. The sure fire way to identify them over a huckleberry however is the top. The way the flaps come out, no huckleberry will have that.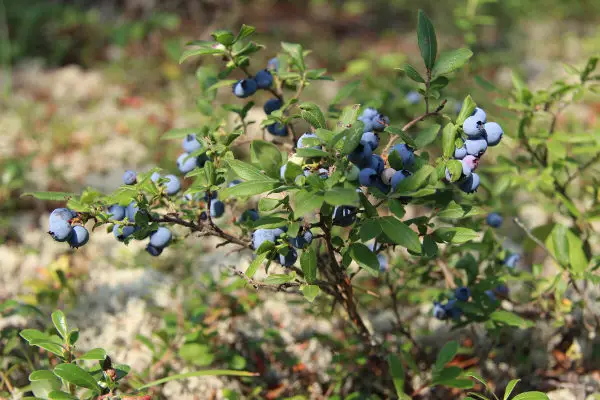 Huckleberry Vs. Blueberry: Nutrition
Although my family picks huckleberries for it's wonderful taste in certain dishes, many people claim they have great health benefits. I remember growing up when people used to ask my mom how I became so tall, (Mom was 5″5′ dad was 6 foot and I'm 6″5′) she would always reply with huckleberries and oatmeal. 
There hasn't been a large number of studies on the nutrition of the huckleberry due to its rare nature but the blueberry does have some more data since it can be cultivated. Lets take a look at what people say about the wild Huckleberry and Blueberry below. 
Nutritional Info: 
Amount Per Serving
Calories
83
% Daily Values*
Total Fat
0.48g
1%
Saturated Fat
0.041g
0%
Trans Fat
–
Polyunsaturated Fat
0.212g
Monounsaturated Fat
0.068g
Cholesterol
0mg
0%
Sodium
1mg
0%
Total Carbohydrate
21.01g
7%
Dietary Fiber
3.5g
14%
Sugars
14.44g
Protein
1.07g
Vitamin D
–
Calcium
9mg
1%
Iron
0.41mg
2%
Potassium
112mg
3%
Vitamin A
78IU
2%
Vitamin C
14.1mg
23%
* The % Daily Value (DV) tells you how much a nutrient in a serving of food contributes to a daily diet. 2,000 calories a day is used for general nutrition advice.
Wild Huckleberry Health Benefits
Check out some of the potential health benefits of wild huckleberries below. 
Huckleberries are associated with protecting against heart disease, peptic ulcers, varicose veins, glaucoma and muscular degeneration. It's also been tied to lowering cholesterol. 
Since they are high in vitamin C they can help protect the body against cardiovascular diseases, immune deficiencies, prenatal health problems and eye diseases. 
Huckleberries can also promote healthy metabolism which can help reduce the risk of a stroke. The high vitamin A and B also help stave off macular degeneration as well as viruses and bacteria. 
As a great source of iron, huckleberries can also help build new red blood cells and help fatigue associated with iron deficiency. 
It also has a high content of potassium which can help the proper functioning of nerve and muscle tissues. It can also help regulate water and eliminate waste. 
Nutrition Facts
Amount Per Serving
Calories
83
% Daily Values*
Total Fat
0.48g
1%
Saturated Fat
0.041g
0%
Trans Fat
–
Polyunsaturated Fat
0.212g
Monounsaturated Fat
0.068g
Cholesterol
0mg
0%
Sodium
1mg
0%
Total Carbohydrate
21.01g
7%
Dietary Fiber
3.5g
14%
Sugars
14.44g
Protein
1.07g
Vitamin D
–
Calcium
9mg
1%
Iron
0.41mg
2%
Potassium
112mg
3%
Vitamin A
78IU
2%
Vitamin C
14.1mg
23%
* The % Daily Value (DV) tells you how much a nutrient in a serving of food contributes to a daily diet. 2,000 calories a day is used for general nutrition advice.
Blueberry Health Benefits
Check out some of the potential health benefits of Blueberries below. 
Blueberries contain iron, phosphorous, calcium, vitamin K, zinc, manganese and magnesium. All of these can assist in building and maintaining bone structure and strength. 
 They can fight against damage done to skin from the sun. Collagen is the support system of the skin and relies on Vitamin C as an essential nutrient. One cup of blueberries has about 24 percent of the recommended daily allowance of vitamin C. 
Some studies show diets low in potassium, magnesium and calcium can be associated with higher blood pressure. Blueberries contains these nutrients and may help in maintaining a lower blood pressure. 
There are several nutrients and vitamins in blueberries that can promote a healthy heart. Potassium, folate, fiber, vitamin C, vitamin B6 and phytonutrient are some of those. The vitamin B6 and folate help prevent build up of a compound known as homo-cysteine. Having excessive homocysteine build up can lead to heart problems. 
Slower cognitive decline in older women has been connected to the consumption of blueberries. 
Blueberries can help you maintain regularity and avoid constipation due to the fiber content. Dietary fiber can be an important factor in weight loss and management but acting as a "bulking agent" in the digestive system. 
Where Can You Find Wild Huckleberries & Blueberries?
Blueberry Location: 
Blueberries are pretty simple. You should be able to find them at your local produce at the grocery store at a local farmers market. You can also grow small quantities of blueberries in your yard or garden.
They are a little complicated to cultivate as the type of species you pair them up with matters. Different species mix better to create better results. I suggest doing a little research before going out and buying a blueberry bush. 
If your looking for wild blueberries, they do exist. As a matter of fact, in Maine, Atlantic Canada and Quebec they can be found growing wild in thousands of acres. In some towns in those regions, local supporters actually take time off work to help harvest them.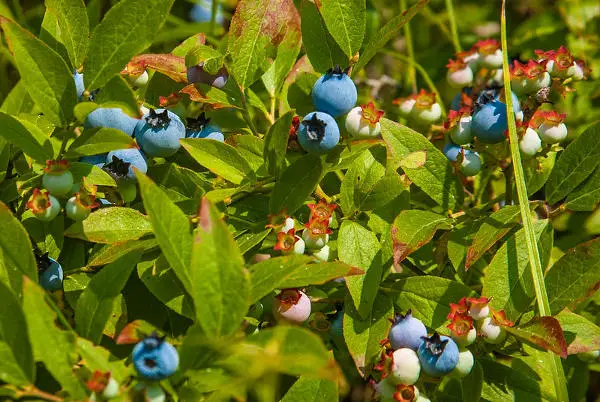 Wild blueberries (Vaccinium angustifolium) are 1 of only 3 berries that are native to North America. Many claim that although these wild blueberries are a little smaller, they pack more flavor and are juicer than their domesticated brethren. 
Wild Huckleberry Locations: 
Huckleberries are not able to be domestically cultivated yet. That doesn't mean however that they aren't trying. The Western Huckleberry and Bilberry Association is actively fostering the commercial development of huckleberry-based industries. 
You won't be finding any domestic huckleberries but you can find wild huckleberries if your willing to get up into the mountains. They are native to the northwestern United States and Canada. You can find them in Wyoming, Alaska, Washington, Idaho, Montana and parts of Canada. 
Since it's still not possible to cultivate wild huckleberries, the only way to get them is to buy from a seller or to go up in the woods and find them yourself. Before you go on social media and ask everyone for their best wild huckleberry picking spot, most people that know where to find them keep it secret like a fisherman keeps his favorite fishing hole. You are likely to get rude and sarcastic comments about where to find them. Most offer an "in the woods" location. 
Check out the video below to see where I pick them. No, you will not get a location but you can see the wonderful wild huckleberries we found! 
Huckleberry Vs. Blueberry Taste
One of the most common things that people want to know and compare is huckleberry vs blueberry taste. I'll do my best to describe what each berry tastes like below. 
Wild Huckleberry Taste:
What does a huckleberry taste like?  Another thing to consider is that there isn't a catch all for huckleberry flavor. Depending on the type of huckleberry you have found it may taste different. I have noticed that the bigger purple and blue huckleberries tend to have more of a sweet/tart flavor. More sweet though. The red huckleberries tend to be more on the tart side. They are still sweet but much more tart than the blue or purple huckleberries.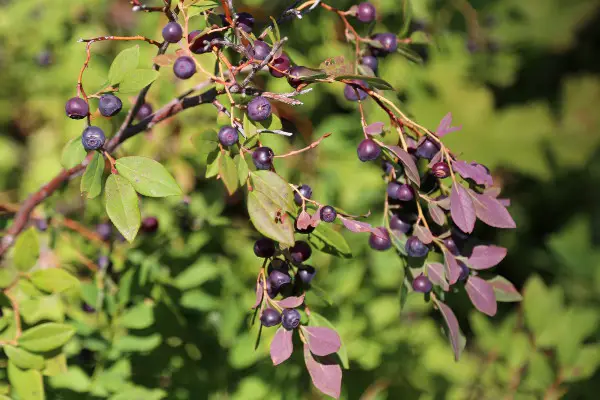 The biggest difference between huckleberry vs blueberry taste is the tartness. I'll describe the taste of the blueberry below, but they just don't have that same tartness that makes huckleberries so irresistible. Personally, I like the taste of huckleberries a lot more than blueberries.
Blueberry Taste:
In my experience, blueberries tend to have more of a dull flat sweet taste. That's not to say they aren't delicious, I think they are wonderful! They just don't have that tartness that makes huckleberries more unique. If a blueberry isn't fully ripe they can be a little more tart but you really lose out on the sweet taste. 
Biting down on a blueberry will release a satisfying squirt of delicious sweet juice. They do have a slight acidic taste, but it's not overpowering. The riper you allow the berry to get the sweeter it will become. They can be on the bush for up to 10 days being fully ripe and become sweeter and sweeter as they stay. 
What Is The Difference Between Huckleberries & Blueberries
You can see that we covered a lot of the things that make huckleberries vs blueberries different. Here is a quick rundown of just how they are different. 
Taste
Locations
Huckleberries grow wild, blueberries are cultivated. 
They are similar in nutritional value and have similar health benefits. 
It's easy to identify the difference between huckleberries and blueberries. 
Those are the biggest differences. Although huckleberries and blueberries are very different, they are also very similar in a lot of ways. I hope that you learned something about both of these wonderful berries today. I have spent my entire life in the woods picking and enjoying huckleberries. I'm hoping that I can help bring some of that joy to others.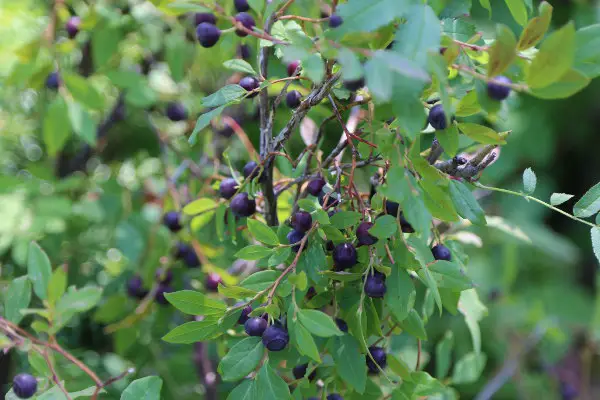 Get out into the woods and see if you can find some wonderful wild huckleberries. Make sure to buy some blueberries the next time your at your local market. Enjoy these berries! 
That ends our comparison of Huckleberry Vs Blueberry. I think you now know the differences between huckleberries and blueberries. If you found this helpful, please remember to share us on your favorite social media platform. You can also check out some of our other adventures and reviews below! 
Learn how to identify huckleberries.  
Camping In The Bed Of Your Pickup Truck: Everything You Need!