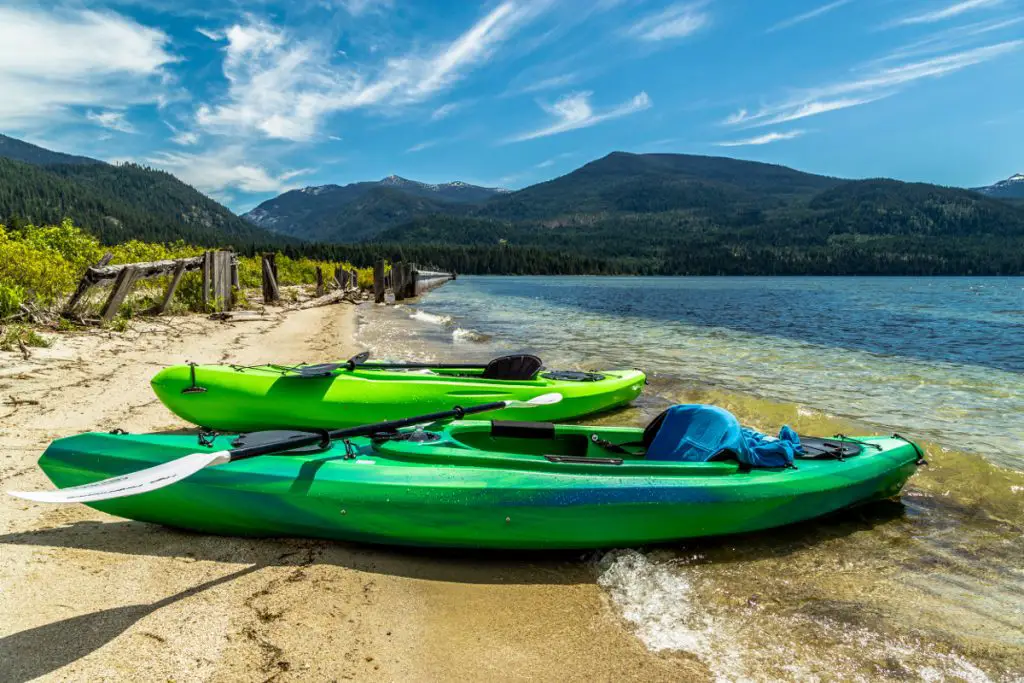 Kayaking Priest Lake Thorofare
Epic Upper Priest Lake Thoroughfare Kayaking Idaho
We are a participant in the Amazon Services LLC Associates Program, an affiliate advertising program designed to provide a means for sites to earn advertising fees by advertising and linking to Amazon.com.
Hello, thanks for stopping by! Today we are going to talk about kayaking Priest Lake thorofare in beautiful North Idaho. We embarked on a pretty epic kayaking trip where we took the Priest Lake thoroughfare to Upper Priest Lake. The waters were calm and the sun was shining, even though the mosquito were biting, we had an amazing time! Join us on this truly epic kayaking in Idaho trip!
To see the full sized images, please click the image to view.
My wife and I celebrated our 13th wedding anniversary on June 12th, 2017. We decided we wanted to spend our time together camping and kayaking at Priest Lake Idaho. We had the idea about a month before out stay, we wanted to find a cabin to stay at on the lake, to make it a little more special. Were typically campers, so staying in a cabin was kind of a treat for us.
We searched and searched, we only  found one cabin available for one night. That was the Mackinaw Cabin at Indian Creek Campground. This campground is located on the middle eastern side of the lake. It's a beautiful area, but we planned on entering the Priest Lake thoroughfare from Beaver Creek Campground. Beaver Creek is on the Northwest side of the lake. We decided that was fine and that we would just leave a little earlier Monday morning to enter the lake.
Indian Creek was a nice campground. It's definitely busy, but it being a Sunday night, we had a lot of privacy. There wasn't really anyone down at the beach, so we sat in the sand and on the dock for a few hours watching the sun go down and soaking up some sun. We made our Keto friendly dinner that consisted of briquette, smoked sausage and salads covered in ranch dressing. Don't get me wrong, this wasn't lower calorie but it was Keto friendly.
We were never alone at the cabin. There were gophers everywhere. It was rare not to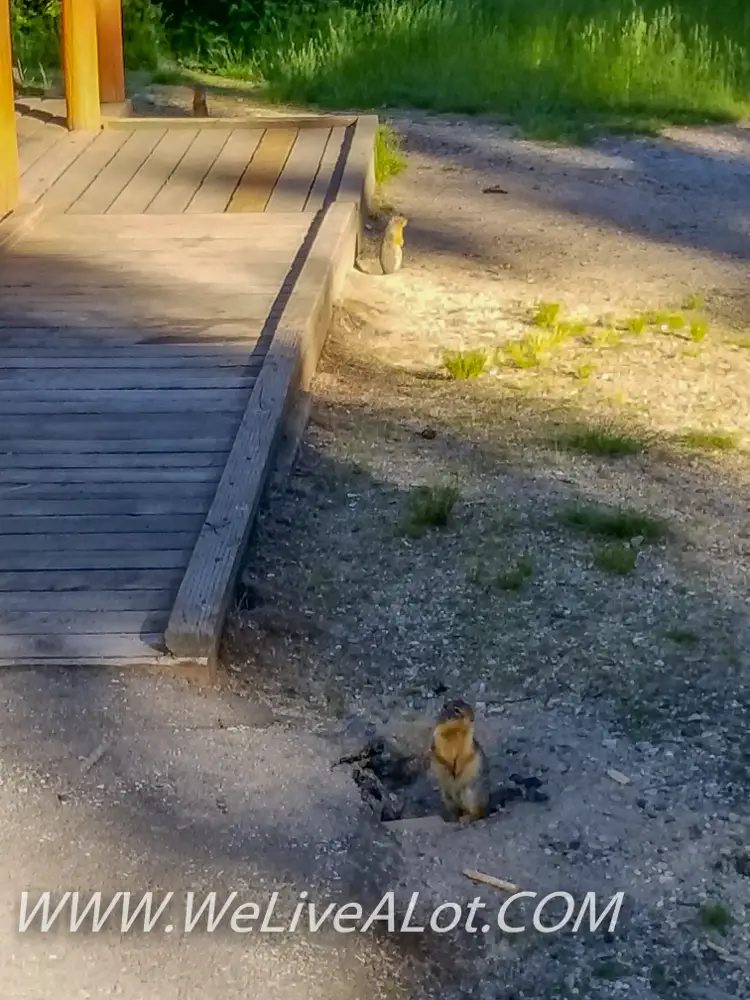 see at least 2-3 gophers everywhere you looked. They were a little skiddish and kept their distance, but they were fun to watch. They chased each other and ran from hole to hole in an amazing system of tunnels they have carved out under this campground. They would seemingly disappear only to find out they just went down another hole.
We went to bed around 10. The cabin at Mackinaw was nice! It was pretty small but had 2 rooms. The main room had a queen sized bed and had a heating unit for night time. Keep in mind, this cabin does not allow dogs. The other room had 2 bunk beds that would sleep 4 other people. Not a lot of space for 6 people, and it was only us this trip, but still a nice cabin for only $60 a night. For info on booking this cabin and others, head on over to the link below.
Priest Lake Camping And Campground Reservations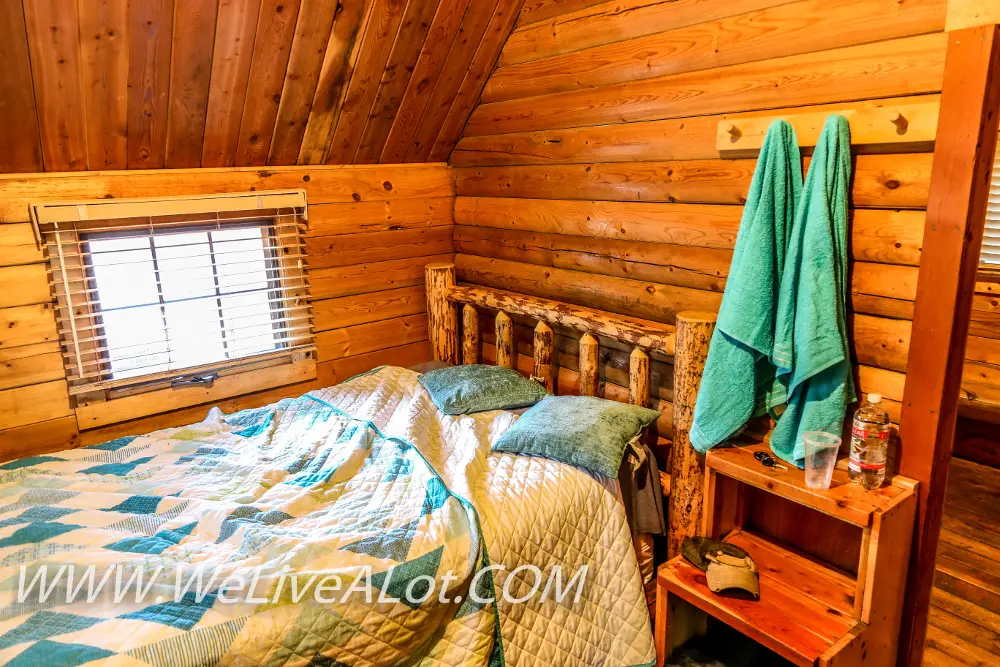 Kayaking Priest Lake Thorofare
We got up the next morning, packed and made our way around the lake. Took us a little over an hour. It didn't help that it was our first time going to Beaver Creek Campground, we stayed on highway 57  until we hit dirt road. We weren't seeing any signs for Beaver Creek Campground so we figured we missed our turn. We did… We needed to take Reeder Bay Road at Nordman. We turned around and made our way north to Beaver Creek Campground.
We ended up putting in at Tule Bay, which is the public beach at Beaver Creek Campground. You also could park at the portage which there are signs for. The benefit of that is you can walk right to the Priest Lake Thorofare instead of paddling around the lake to get in. The downfall of the portage is you have to carry your kayak or canoe about a half mile to get there. So if you have a lot of equipment due to staying the night at Upper Priest Lake, this may not be the best route for you.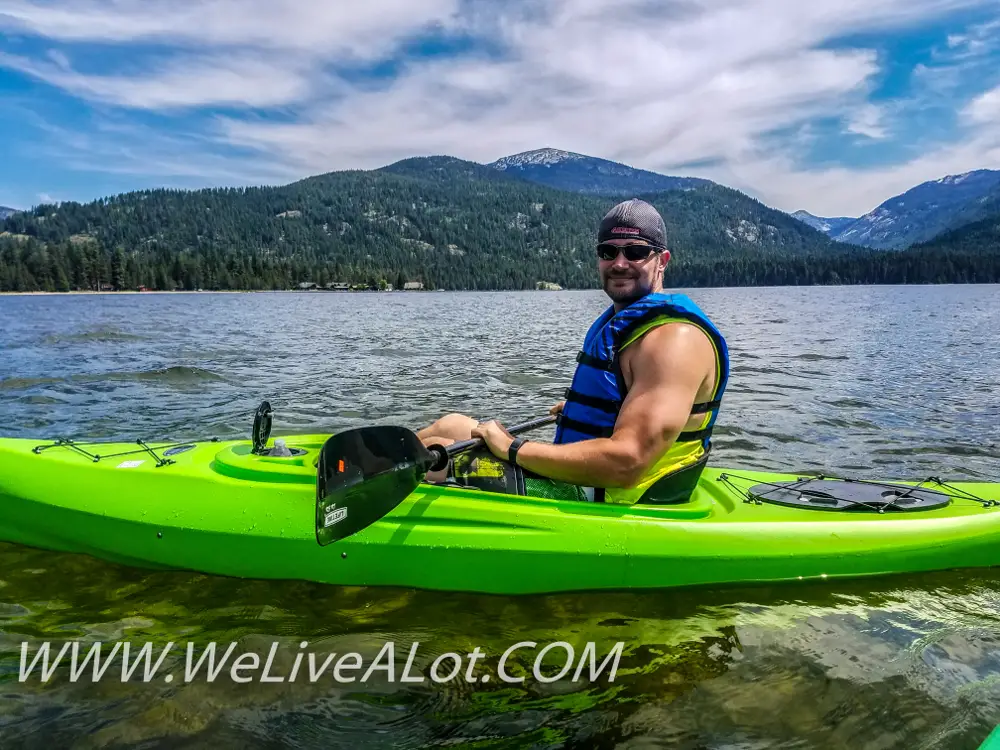 Check out the video below, it documents our kayaking in Idaho trip and I give some detailed info at the beginning on how to get there and what options you have to put in to reach the Priest Lake Thoroughfare.
We paddled around the lake and eventually saw the thorofare entrance. It took us probably 30 minutes of kayaking in Priest Lake to arrive at the thoroughfare. There is a large wall, I explain more in the video above, that you have to navigate around if your coming from this direction. If you left from Lionhead Campground, you will be alright. We ended up parking on a sandbar before going around the wall, and just drag our kayaks about 20 feet over to the thorofare. It saved us a lot of paddling in the lake and we were able to get straight to the Priest Lake thoroughfare.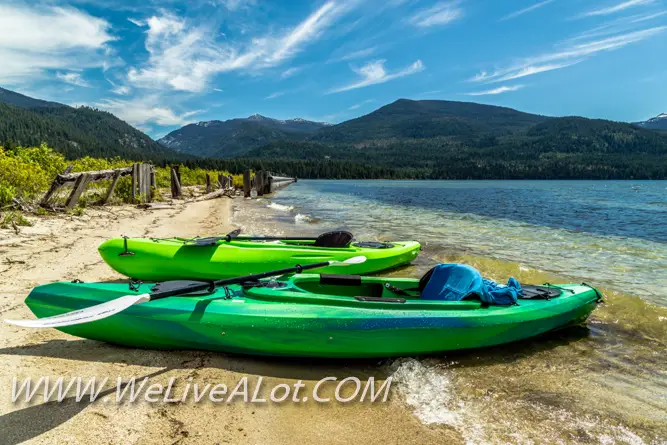 Reaching Priest Lake Thoroughfare
Once we reached the thorofare to Upper Priest Lake, the water was like night and day from the lake. It was a bit windy and the water on the lake was a little choppy. Once we hit the thorofare, the water was very calm. The kayaking in the thoroughfare was extremely relaxing and peaceful. The channel to Upper Priest lake is a no wake zone, so even as boats go by, they are going very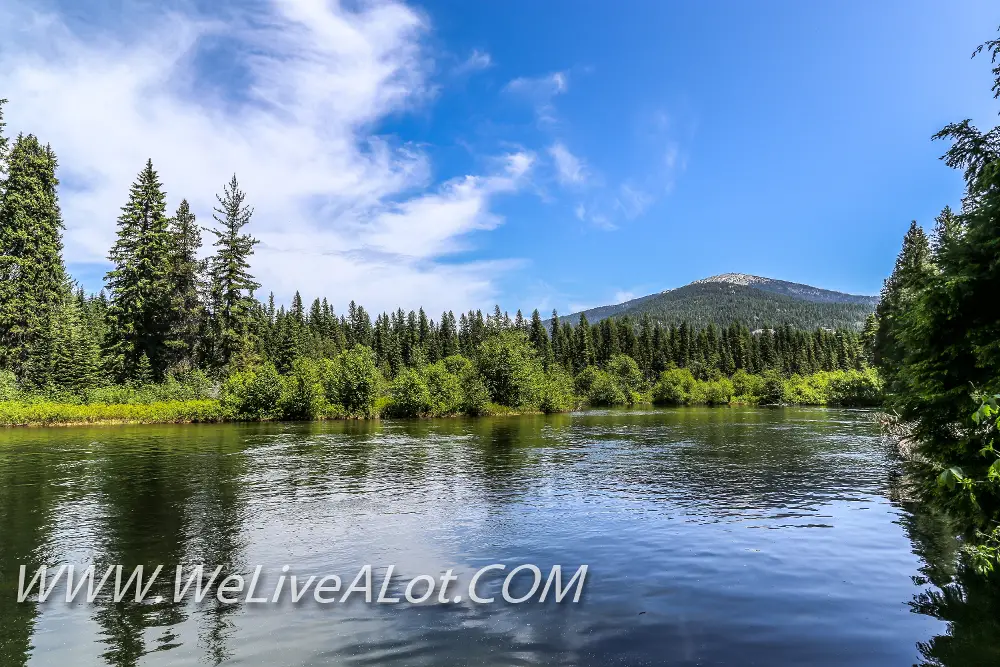 slow and not creating much of a disturbance. We did not experience it, but some people do say that not everyone follows the no wake rules, hopefully you don't run into this.
We realized about a half mile into the thorofare that we forgot out sunblock. Heather and I decided to get out at the portage entrance and walk back to our car which was parked at the beach access of Beaver Creek Campground by Tule Bay. It was a bit of a jaunt, maybe a mile or so to get to our car. We then drove our car up to the portage entrance and decided when we left for the day, we would just take that exit and carry our kayaks out.
Once we took back off from the portage entrance we noticed that a bit of a current had picked up and was pushing against us. The paddling became much harder and when we stopped the current was pushing us backwards. This meant we had to constantly be paddling. We weren't even half way to the Upper Priest Lake yet, so this was a bit discouraging. It turns out, right before you reach the point where Caribou Creek enters the thorofare, it creates a bit of a current. As soon as we went beyond where Caribou Creek enters the thoroughfare, it became dead calm again. This was a relief for us, as we didn't want to have to paddle against a strong current all the way to the lake. Once of the nice things about paddling the thorofare is that you can relax and take your time. When you stop, you just kind of drift forward. It makes for a very relaxing and peaceful kayaking trip.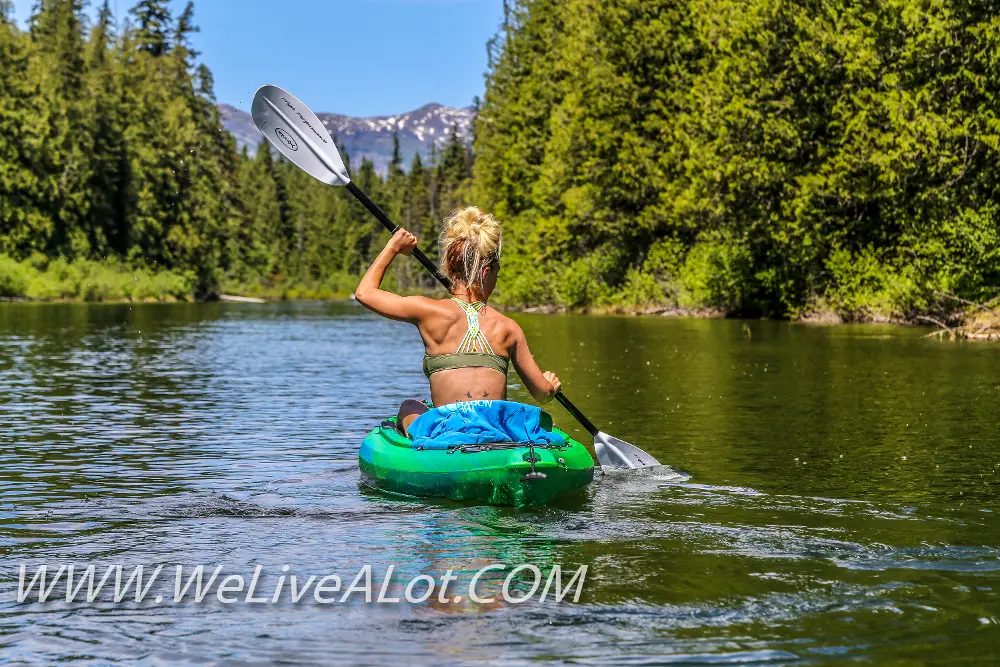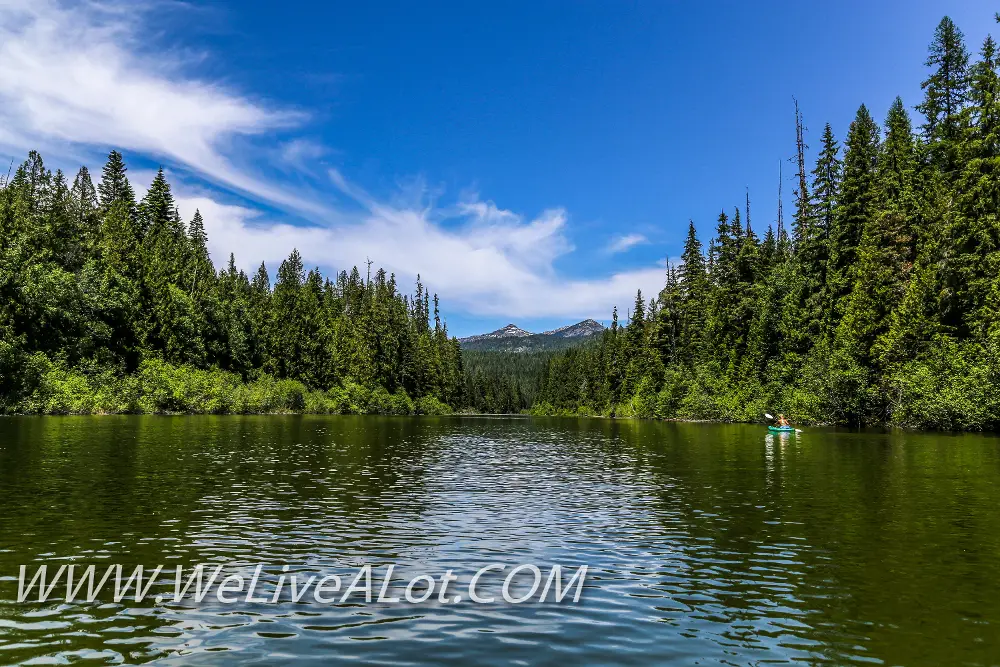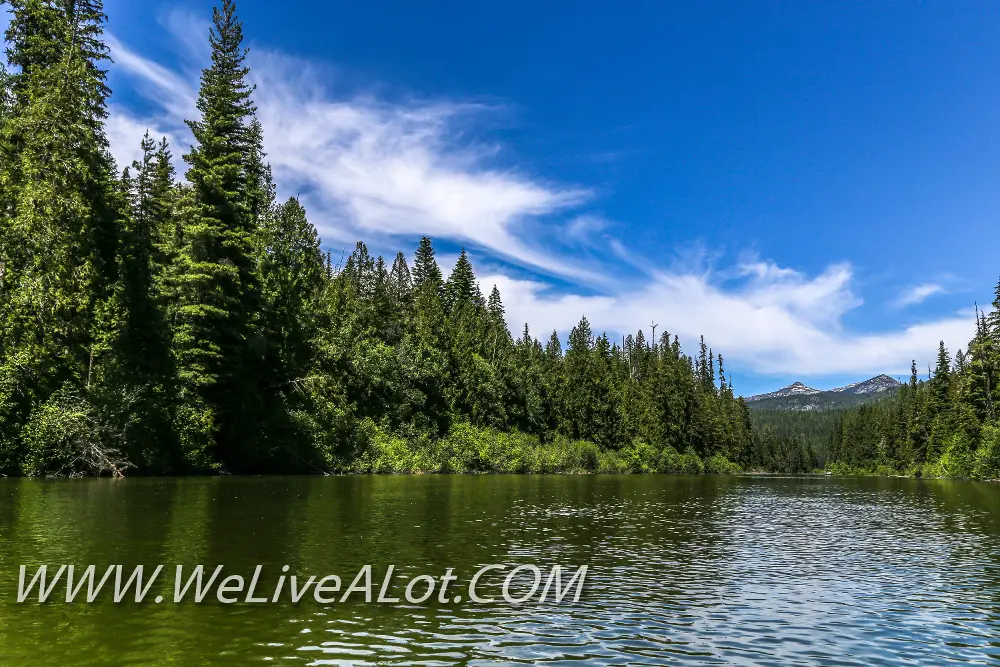 Upper Priest Lake Kayaking
After about 5 miles of kayaking Priest Lake and kayaking in the thoroughfare we finally reached Upper Priest Lake. This was truly a beautiful site to behold. There were barely any clouds and the lake was mostly  completely calm due to the wind dying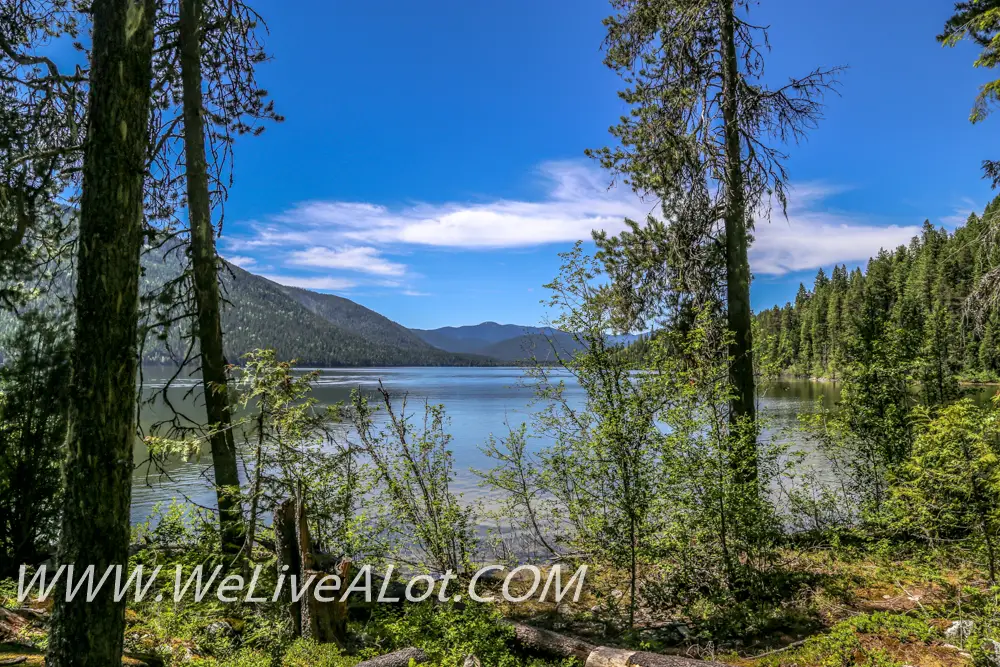 down. We paddled around the east side of the lake until we came to a huge rock sticking out of the lake. Next to this rock was a small campground, this ended up being a perfect place to stop and have lunch, or so we thought. We ended up forgetting our bug spray, huge mistake. We were not bothered by any bugs while on our kayaks, but as soon as we reached shore, we were swarmed. I couldn't stop moving without have 4-6 mosquitoes on me at all times. We ended up quickly eating our food and getting back on our kayaks and entered Upper Priest Lake again. If you plan on pulling off at Upper Priest Lake, don't forget the bug spray! I would love to stay the night at this campground sometime, but you would need to come later in the season when the bugs were gone or have a heavy artillery of bug be gone gear. It was hard to leave this area as the vies of the lake from the campground was so beautiful. But we were no match for the mosquitoes.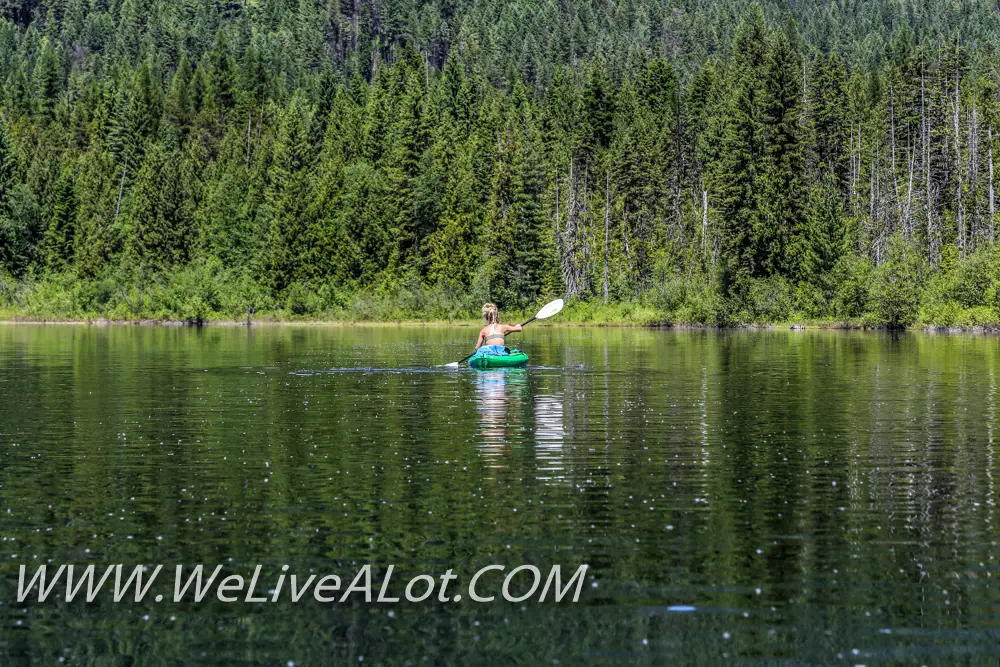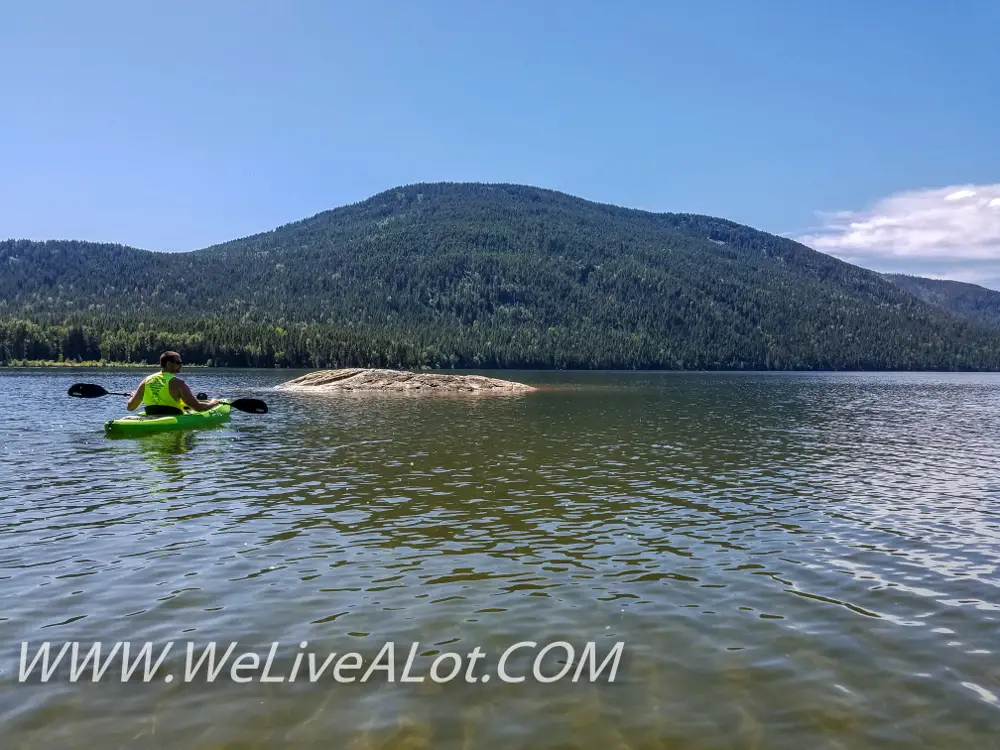 We headed out to the large rock that was jutting out of the Upper Priest Lake, we kind of just drifted out in that area for a few minutes to rest mosquito free. After about 30 minutes of just relaxing in our kayaks and drifter around we finally decided to paddle back to the thorofare. The trip back down to the lower Priest Lake was much easier of a kayaking paddle. We could paddle a few times and just drift for a bit. It was very relaxing, which was nice because we were both a little tired at this point.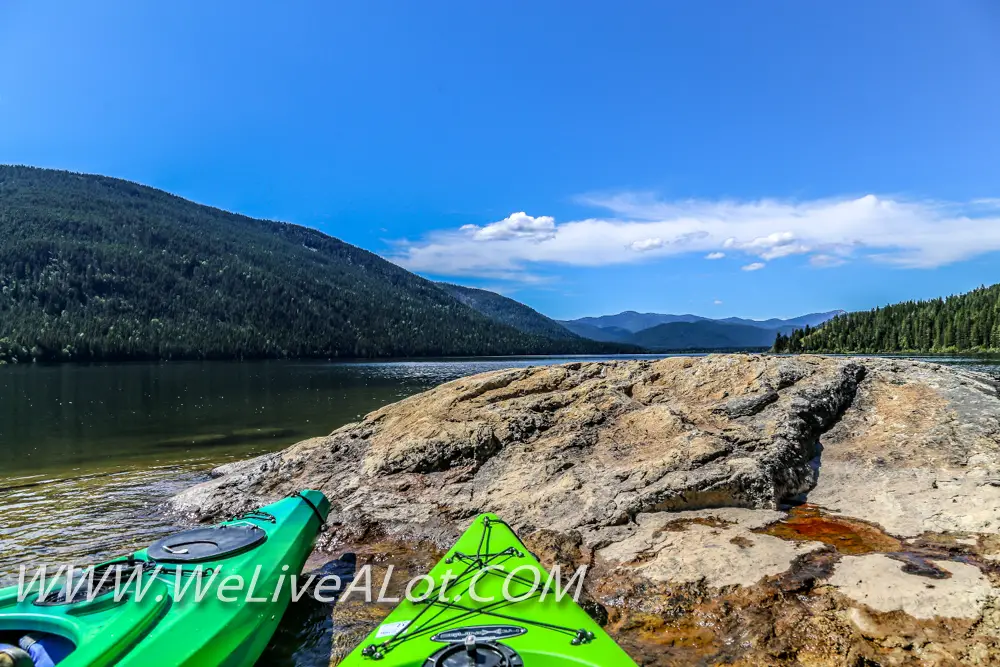 We reached the portage entrance again, and were greeted by another huge swarm of mosquitoes. We had two kayaks to carry back to the car, so we had to make the decision to carry one at a time and make two trips or carry both and make one trip. Even though we were both tired we decided to make one trip and carry the kayaks. This ended up being a huge mistake, not because the kayaks were too heavy but because we had no way to fend off the mosquito once we had both hands full. So we took on more bits but finally made it back to the car.
We loaded up the kayaks on the roof and began our peaceful drive back home to Post Falls. We did end up violating our Keto diet and stopped at Burger Express in Priest River. We made it all the way until the very last leg of our trip eating good. But we caved and ended up carb loading, and was it glorious!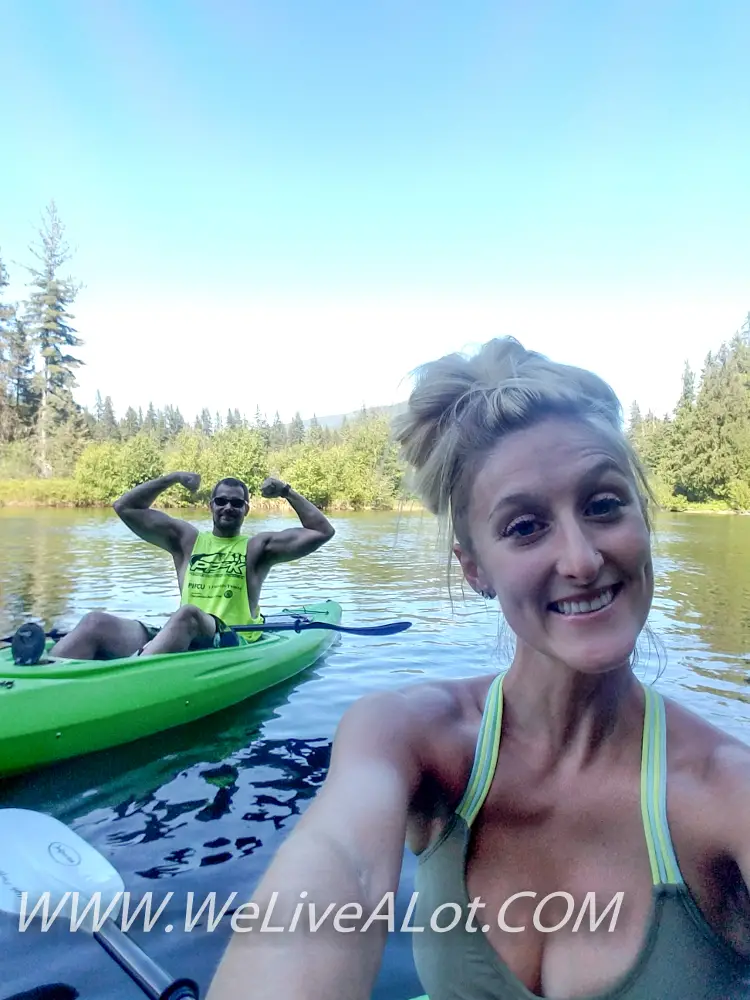 Thank you so much for taking the time to read about our little adventure. The Priest Lake Thorofare was truly beautiful and I hope you get the opportunity to check it out. We love kayaking in Idaho, and the Priest Lake Thoroughfare is  just one of the many beautiful places to experience.
For more great videos you can head over to our youtube channel, the link is below.
We Live A Lot Youtube
Also, check out our trip to Surveyor Peak as we camped in the Surveyor Fire Lookout Tower!
Click Here For Surveyors Lookout Tower
Kayaking Priest Lake Thorofare – Kayaking In Idaho