Snowshoeing In The Bitterroot Valley Montana
Snowshoeing At Lake Como
We are a participant in the Amazon Services LLC Associates Program, an affiliate advertising program designed to provide a means for sites to earn advertising fees by advertising and linking to Amazon.com.
Welcome to part 2 of our Bitterroot Valley adventure where we take you snowshoeing in The Bitterroot Valley Montana. We decided to take a trip south from our cabin to do some snowshoeing around Lake Como which is about a 20 mile or 30 minute drive south of Hamilton. When getting close to Lake Como on Lake Como road, take a left at the fork, this will take you to the trail that goes around the lake. You can take a right, which takes you to the swimming are.
The parking lot we parked at was on the east side of the lake, opposite way of where the swimming are is. There is a huge round parking lot, that you can jump right on the trail from.
First we had to stop in Hamilton and grab our snowshoes that we rented from Valley Bicycle and Ski. Click the link to get their contact info and give them a call. The gentleman the helped us was so kind, and so helpful. He taught us a lot and made us feel pretty comfortable about going snowshoeing for our first time.
Okay, back to the parking lot. After being in the car for about 30 minutes, we were ready to get our snowshoes on and get to hiking. It took us a bit to get the shoes on correctly as it was our first time. Once we did, we were off to the races.
We took a simple hike that took us around the lake. The fresh snow from the night before crunching under our feet was a satisfying feeling! We had wanted to go snowshoeing and finally, here we were, snowshoeing around Lake Como in the Bitterroot Valley!
The hike around the lake was absolutely beautiful. It offered us freshly dusted mountain views to the west side of the lake. I wish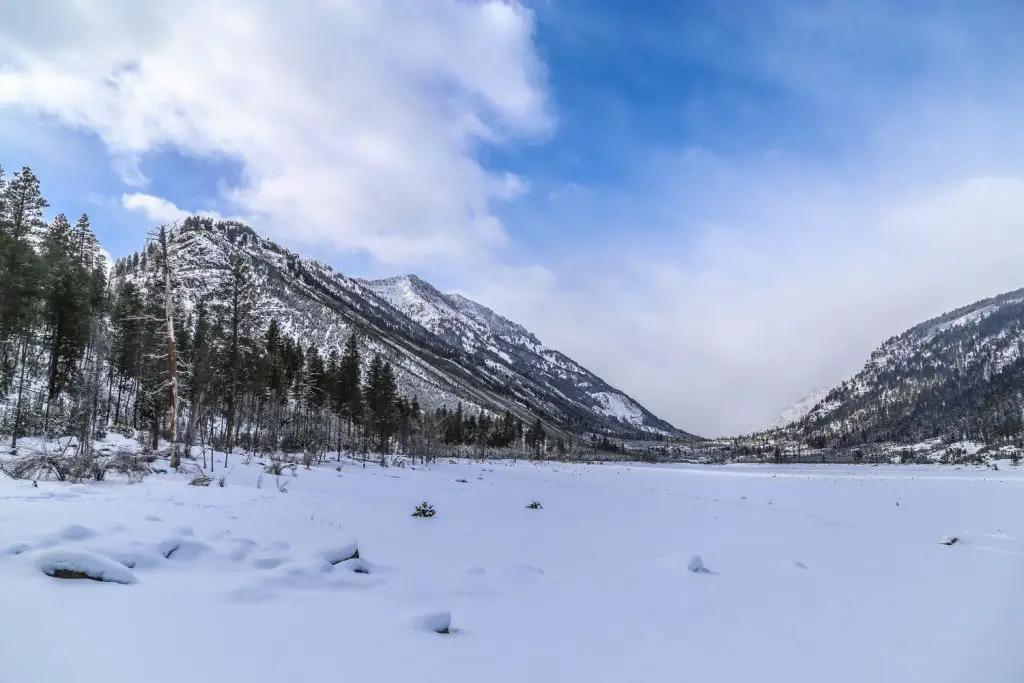 we had taken more photos of this beautiful area, but it was hard to get the camera out with all of the snow stuff we had on. We were able to get a couple good shots though!
Snowshoeing was everything I hoped it would be. Gliding across the snow was a lot of fun and a completely different experience than anything we had done before. It was a nice day and not very cold, so we were able to pull off a couple of the layers and put them in our bag. Being in the woods with the amazing mountain views and fresh snow was truly a unique experience I will definitely be trying to do every year from here on out.
We hiked almost to the west end of the lake, the trail kind of went away and we didn't want to get into an area we were uncomfortable with. We took a detour down to the lake, and decided to be brave and venture out on the lake a bit. Honestly, it wasn't that brave as we had seen people down on the lake earlier with their dog. The lake seemed full frozen and able to hold us. There was one scary moment, when over the lake a large snow crust gave out and I sunk pretty deep. I thought I had broke through the ice, luckily it was just a deep patch of snow drift that I sunk through.
We took a photo of the beautiful mountains just as a small snow storm started to roll in. Not wanting to get caught up in the snow, we decided to head back along the trail. I'm glad we did, my legs were starting to get pretty tired. This is definitely not the same as normal hiking, your legs get tired in places your not used to being tired.
If I remember right, the hike was about 5 miles total, which is normally nothing but on snowshoes it was quite the workout. We had a great time snowshoeing in the Bitteroot Valley Montana. We decided we would definitely make another trip just to do some snowshoeing at Lake Como.
If you haven't had a chance yet, check out the cabin we rented in part 1 of this adventure we took in the Bitterroot Valley Montana. We show you the magical side of being snowed in at a secluded cabin in the Bitterroot Valley, click below to check out more!
If you are new to snowshoeing, please watch the video below so you can get started.
Getting Started With Snowshoeing
If you need a place to go, snowshoeing in the Bitterroot Valley Montana was amazing. Snowshoeing at Lake Como is something we will definitely be doing again in the future!
Bitterroot Valley Snowshoeing