We are a participant in the Amazon Services LLC Associates Program, an affiliate advertising program designed to provide a means for sites to earn advertising fees by advertising and linking to Amazon.com.
I wanted to take some time today to show you some of the best tinder for fire starting. I'm going to cover three different kinds of tinder. I'll show you my favorite homemade fire tinder and natural fire tinder for fire starting. There are also commercial fire tinder options. It's always best to be prepared and bring fire tinder with you but as we know sometimes you have to be able to find natural fire tinder when your out in the woods.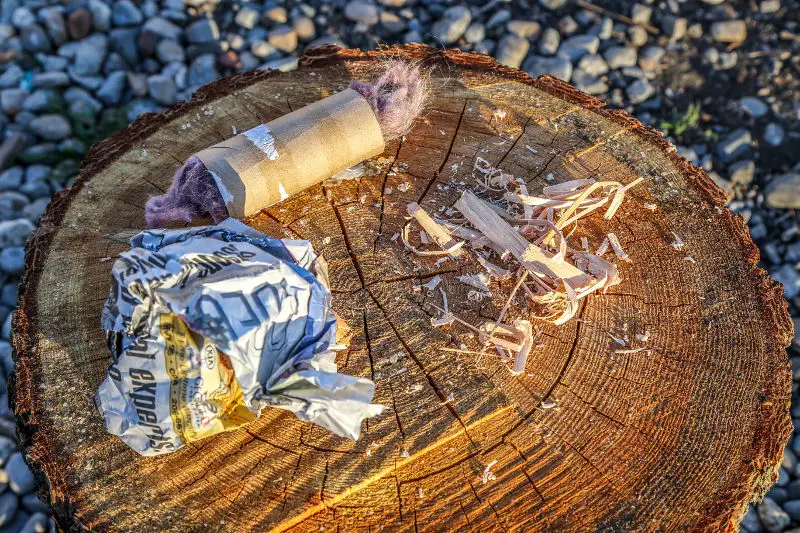 You can make some really good homemade fire tinder to bring with you or even to use in your back yard. There are some items you can use that aren't really homemade but are just ready to be used. Other types of natural fire tinder can be found out in the wild. Some of these are just as good if not better than the homemade. You can also buy some great commercial types of fire tinder or starter. Below, I'm even going to show you how to make the best fire tinder for a fire. 
Best Tinder For Fire Starting
I know your in a hurry and your time is precious. I wanted to quickly answer your question below and just give you list of each kind of tinder. Keep in mind, I will talk more about the best tinder for fire starting below. I will break down each one if you want to learn more. For now, check out the categories of tinder below. 
Best Commercial Fire Tinder
Any of the tinder below can be purchased to make things a little more convenient. Personally, I like finding my own tinder in nature but always try to make sure I have one of the following on hand as a just in case option. I try to keep the waterproof fire tinder with me in case of a rainy or wet emergency. Just below the list I have linked all them to Amazon so you can see price and user reviews!
UST WetFire Tinder 
Coghlan's Fire Paste
Phone Skope Pyro Putty
Steve Kaeser Fatwood Fire Starter Sticks
Fire Starter Magnesium Bags (Best option for wet weather).
Lightning Nuggets Fire Starter
EZ Fire starter Gel Packets
QuickFire Fire Starters
Shefko EasyFire Natural Fire Starters
Pine Mountain ExtremeStart
Click any of the commercial fire tinder below to see price, reviews and more photos on Amazon! 
Best Homemade Fire Tinder
Just so we are clear for the best homemade tinder to start a fire will include anything you can either make at home or just grab. This list will have some cool homemade tinder options, if you would like to learn more, make sure to the lower part of the page where I breakdown each homemade tinder types. 
Wadded Up Newspaper
Lint from dryer
Paper/Cardboard products
Almost any item on this list with wax on it. 
Cotton balls 
Cotton balls covered in wax (see below for more details).
Cotton balls soaked in petroleum jelly (Vaseline). 
Lint stuffed inside a toilet paper roll (See more below)
Any combination of the above items.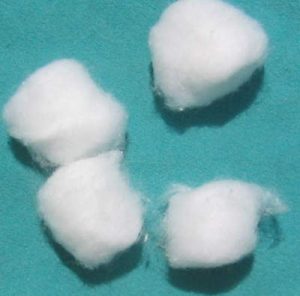 Natural is the best tinder for fire starting. There is just something about using what nature has to offer you to start a fire. It's really not hard to start a fire with natural tinder if the conditions are right and it's dry outside. When it's wet it does become much more challenging. It's a lot of fun to take out your magnesium ferro rod and start a fire with some dry grass or moss you have collected. 
The best options for natural fire tinder are below. Same as before, this is just an intro with a list, in the lower section I will break some of these down for you. 
Dried Grass
Birch Bark
Cattail Fluff
Pine Needles
Dried Leaves
Old Man's Beard (Usnea)
Red Cedar Shavings
Birdnests
Dry Wood Shavings
Pine Cones (Crushed)
Fireweed Cotton
Thistle Seed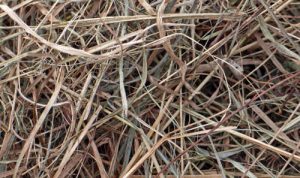 Best Tinder For Fire Starting
Now that I have given you the lists of the best tinder fore fire starting options out there I wanted to break them down for you. Some are obvious but some might  need a little more explanation. I'm not going to go over the commercial fire tinder options as you can click over to Amazon to read and see more. 
Lets start off by going over the homemade fire tinder options and then we will break down the natural fire tinder options. Also, make sure you check out another article we wrote about starting a campfire. 
Homemade Tinder Breakdown
Lets take a look at all the homemade fire tinder options. Keep in mind, I'm including any of the best tinder for fire starting that isn't natural but can usually be found in the home. Some of the options below you will have to make. First I'll go over the options you can just grab then I will talk about how to make the best fire tinder. 
Wadded Up Newspaper – Wadded up newspaper is fairly obvious. It's also my favorite and most used option. When you wad up the newspaper make sure not to wad it up too tight or the fire might not spread well. Wad it up, but keep it a little loose so the oxygen can reach it easily. 
Lint From Dryer – Although I have great success with this option, depending on your clothes this can be a little hit and miss. Lint that comes out of things like jean pockets will burn well. However, some synthetic clothes are made from non flammable material. You will just have to get some lint and give it a try!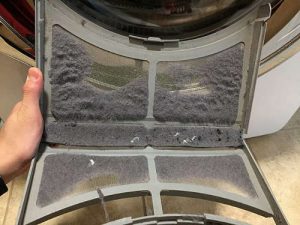 Paper/Cardboard – Using a paper plate or paper towels can definitely work. I've also used a cardboard box, although if you use a box you will want to make sure it's not super thick. Sometimes if the cardboard is too thick it's hard to get the fire to spread.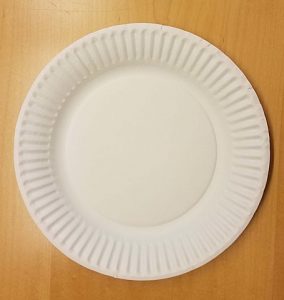 Wax – Wax is extremely flammable and can be put on almost anything to help turn that into a homemade fire tinder source. We will use wax below on our homemade tinder options. 
Cotton Balls – Cotton balls are fantastic. They burn well but slow enough to help catch wood on fire. They are also extremely inexpensive and super light to carry around. Just make sure you store them where they can't get wet. Use a Nalgene bottle or a pill carrier. 
How To Make The Best Fire Tinder
If I'm going camping or backpacking I chose to make fire tinder before I go. It's actually super easy and fun to make. You can even get the kids involved and they will likely enjoy it as well. Let's take a look at how to make the best fire tinder! 
Cotton Balls Dipped In Wax
This is hands down my favorite type of homemade fire tinder that we make. It's incredibly easy and super effective. 
You simply take a cotton ball and dip it in melted wax. That's really it. Just make sure to store the cotton ball in a dry place like a pill bottle or zip lock bag. My wife burns those scentsy candles on a burner. We will dip the cotton balls into that melted wax, it even gives them a nice scent. 
To melt the wax you can get a wax burner like the one below. Or you can just melt some wax down with a butane lighter and dip the cotton ball in it. 
Last update on 2023-03-18 / Affiliate links / Images from Amazon Product Advertising API
Lint Stuffed Toilet Paper Roll
I love this one because almost everyone has access to lint and to toilet paper rolls. That's really all you need. The thing I love about this form of tinder or fire starter is once you get it going it's actually a nice slow burn. It gives you a lot of time to get the wood burning.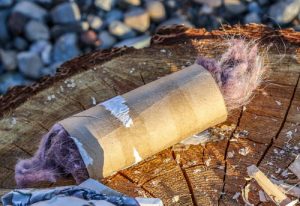 Simply take lint from your dryer and stuff it inside of a toilet paper roll. That's really it. Just make sure you don't stuff it too tight. Fill the roll but don't stuff a lot of it in there. The more oxygen that can get to it the better. 
To make this even better you can wrap the lint in wax paper and twist the ends like a piece of candy. Or you can even melt some wax and put it on the outside of the toilet paper roll for that extra bit of flammability. 
Cotton Balls Dipped Vaseline
Cotton balls can also be dipped in some Vaseline or petroleum jelly. This will make them extra flammable and able to help you build a great fire. Add a little Vaseline to a cotton ball by warming it up just a bit. It will become much easier to apply. Then seal the ball up in a pill bottle or zip lock bag to be used for later. 
Keep in mind that lip balms like chapstick contain petroleum jelly and can assist in starting a fire. 
Do you have a pencil and a sharpener? If so, you can make some great fire tinder. Simply take your pencil shavings and put them in a safe place so they stay dry. What I like to do is add a little bit of wax to half the container. This allows the other half to stay easy to ignite but then will make the other half burn much longer.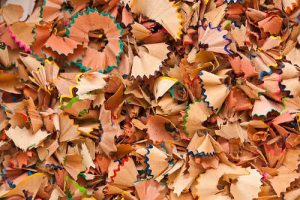 You can take a pine cone and smash it all up to make some of the best fire tinder. Not only does it ignite nicely but it usually contains some pine sap which makes it burn really well. You can also leave the pine cone whole and dip it in wax to make for a great fire starter. If you don't want to dip the entire pine cone to save some wax, just  dip the top part of the pine cone. 
Now we are going to take a quick look at the natural fire tinder options you can find out in the great outdoors. Most of this stuff can be found fairly easily although some of the wood types will depend on where you are located. Some you should be able to find almost anywhere, unless your stranded in the middle of the desert. 
Dried Grass – This one is pretty obvious. The dryer the grass the easier it will be to light. Dry grass is great but burns super fast. Be ready to get the wood burning if your using dried grass. 
Birch Bark – Birch trees are pretty easy to recognize with their white bark and dark horizontal spots. It's highly flammable but also resistant to water. If the weather is wet, it might be a great option.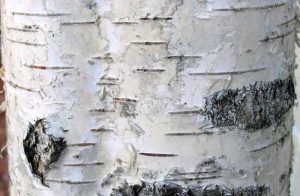 You will want to take your knife and slice off some chunks of bark. If you can find a downed birch tree it will work much better. From here, tear the bark into as thin of strips as you can. Once it's in strips, wind the strips around your fingers for a few moments to give them a curly shape. Sparks can easily ignite the oils in the bark making this a great option! 
Cattail Fluff – You will find cattails in wetland and marshy areas. They are super common and easy to find in any swampy or marshy area. You may know of them as natures corn dogs, due to their striking resemblance to corn-dogs. Inside the brown outer shell you will find the cotton seeds. These are what you will need to use as tinder as they are highly flammable. 
It's important that you have a lot of these as the cotton burns incredibly fast. To catch wood on fire you will need a considerable amount. The nice thing is that usually when you find a cattail you find more than one. They are typically in abundance and it should be easy to get a lot of their seeds for tinder.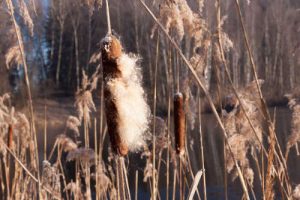 Pine Needles – This one is similar to grass. The dryer the better. Typically finding some that are already fallen from the tree will be the driest. These will also contain small amounts of pine sap helping them become great tinder and fire starter. 
Dried Leaves – Depending on the area you are in and the trees that are around dried leaves could be all over the place. If they are dry, they are easy to crumble and use as excellent tinder or fie starter.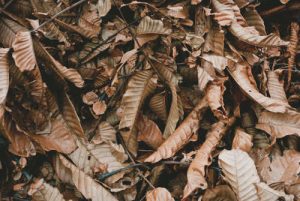 Old Man's Beard (Usnea) – This is a hanging lichen and it's most commonly found on tamarack and spruce tress. It is most commonly found in the deeper shaded areas of the forest. It's commonly wet however but can be gathered and dried by placing in your pocket. When it's tried keep it fluffy, if you compact it too tight, it won't ignite.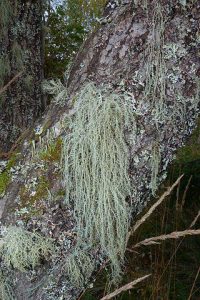 Red Cedar Shavings – If you are lucky enough to be around red cedar trees, you should have it made! The bark is unique in that it's kind of shaggy. Once you know what to look for they are very easily spotted. Simply shave off some of the fibers with your knife for some of the best tinder for fire starting.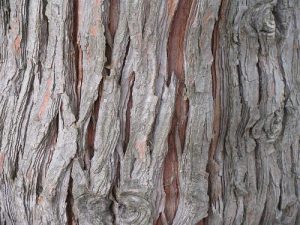 Birdnests – Birds use all kinds of stuff to make their nests but it's mostly twigs and grass. Usually these are very dry and primed to be used as tinder. Obviously, if your in the woods and just playing around, a birds nest would be a last resort. But if you are in a survival situation, it might be a good option for you.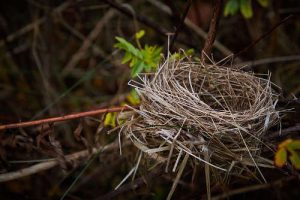 Dry Wood Shavings – I've outlined different kinds of wood but any kind of dry wood that you can shave can be used for tinder or fire starter. The dryer and smaller the shavings the better.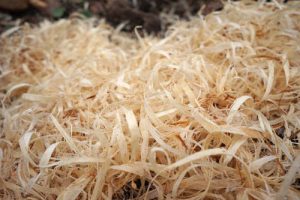 Pine Cones (Crushed) – Pine cones are great for a tinder but will need to be broken down first. They contain a lot of pine oil or pitch that will help the burning process. Make sure and break them down as much as possible. The smaller the pieces are the easier they will be to ignite. 
Fireweed Cotton – Fireweed can be found in a lot of places and the cotton seeds it produces are extremely flammable. They are more common in ares where fires have been, hence their name. Same as with cattails, you will need to gather a lot of the cotton seeds for this to work. Typically if there is on fireweed, there is a lot more close by. 
Thistle Seed – Thistle seeds are very similar to fireweed. Rip open the thistle to expose the cotton seeds. Gather a lot as you might need a lot of it to get a fire going. 
https://www.youtube.com/watch?v=c8KjCanaOp4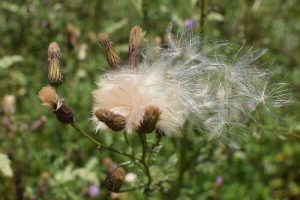 I really hope you were able to find the best tinder for fire starting that works for you. Whether you want to buy commercial fire tinder or fire starter or get out in the woods and find your own, there is something for you! Firecraft can be a lot of fun and learning how to start a fire with minimal supplies can be a very useful skill. 
If you found this article helpful, please make sure to give us a mention, like or share on social media, it really means a lot to us. 
Also, make sure to check out some of our other content! You can check out our Youtube Channel as well but clicking through on the upper right of the page. 
Learn How To Camp In A Pickup Bed