Best Large Family Size Tents For Camping Under $200
We are a participant in the Amazon Services LLC Associates Program, an affiliate advertising program designed to provide a means for sites to earn advertising fees by advertising and linking to Amazon.com.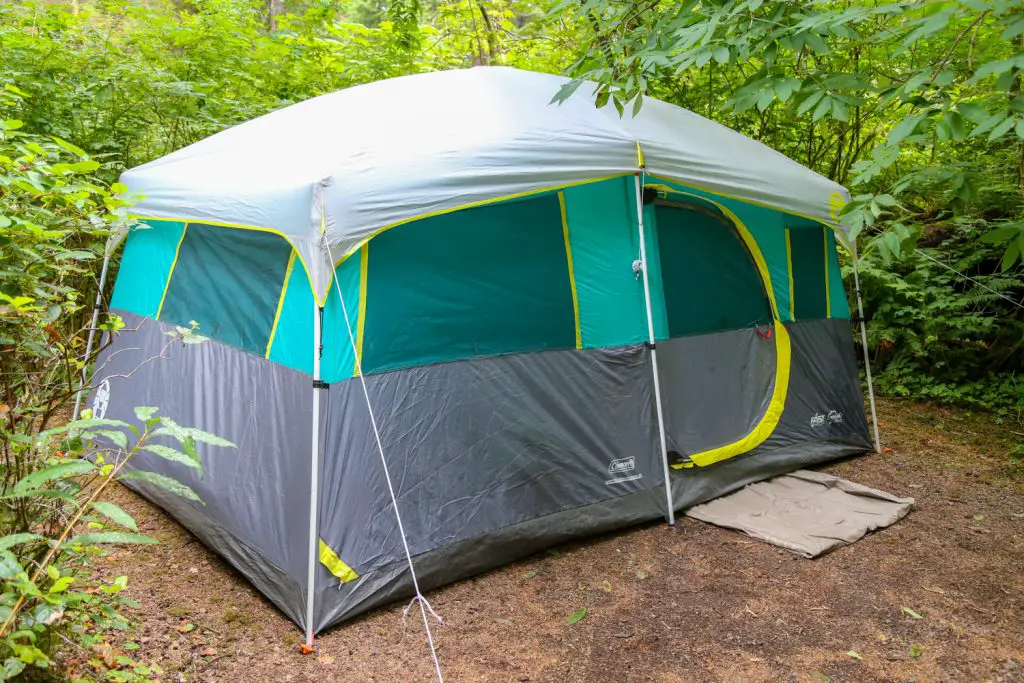 I'm assuming you are here because you have a family of 3 or more, likely with a dog or 2. That's great! Today I want to talk about the best large family size tents for camping under $200. The point of this is to help you find the best family tent while also keeping you within a reasonable budget of under $200.
I literally just went through this process of buying a new family tent and wanted to share all the information that I learned on my journey. My family and I have been camping for many, many years and buying family sized tents is something we have become experts at. You can buy a high quality, user friendly family tent that sleeps anywhere from 4 to 8 people for around or under the $200. Take a look at the chart below to see a comprehensive list of the best large family tents for camping under $200.
We also have a giant guide to picking out the best size tent. Learn how to read between the lines on family and smaller tents. Know exactly how much room you will need and stop trying to guess if the tent you are spending your hard earned money will be big enough to keep your family comfortable. Check it out below!
Best Family Tents For Camping Under $200
Now that you have seen the list of family tents under $200, let's briefly talk about each one. If the list above didn't 100% convince you on which one you want, hopefully our breakdown of each tent will help you make the best decision you can.
Coleman 8 Person Tenaya Lake Fast Pitch Cabin Tent with Closet
This was our #1 pick for the best large family tents out there. I have done extensive research and this tent hit all of our requirements. Feel free to see our detailed review by clicking the link below!
We are a family of 5 people and 2 fir people (dogs). We can all fit pretty nicely in this tent. If we needed to we could put 2 queen air mattresses and probably a full. Which gives us all plenty of room. We also have some room left over to put bags and other items we want keep dry or inside for the night.
The main thing that attracted us to this 8 person family sized tent was the fast pitch idea. Once we learned how to put the tent up, we can assemble it in about 3 minutes. It's SUPER easy. If you need the included rain fly, your looking at probably 5 minutes of set up time. It's also affordable at under $150.
It kept us dry during a very rainy and windy storm and is big enough for me to stand straight up no matter where I'm at. Check out our full detailed review complete with video below!
Click Below To See The Price Of The Tent And User Reviews
Sale
Last update on 2022-04-25 / Affiliate links / Images from Amazon Product Advertising API
Click Here For Our Detailed Review
CORE 9 Person Extended Dome Tent
When doing research for a large family sized tent under $200, this would have been our second selection. I'm a pretty tall guy, and the reason the Coleman won was due to the cabin style. This gives you more head room than the dome style. This is still a great and roomy tent though.
This tent is actually just a little bigger on the floor and can hold 1 more person. When I was reading the reviews, someone mentioned they could fit up to 3 queen sized air mattresses in the tent, which is a lot of room!
It has a nice interior organizer at the top of the tent to put some personal items. It also does a great job of keeping you dry! It's just a smidge cheaper than the Coleman, click the link below to see current price!
Click Below To See Price And User Reviews of the Core 9!
Sale
CORE 9 Person Extended Dome Tent - 16' x 9'
Sleeps 9 people; Fits three queen air mattresses; Center Height: 72 inches
CORE H20 Block Technology and adjustable ground vent.Pole Type: Traditional Fiber Glass Poles
Features gear loft with lantern hook and pockets to keep items organized and off the tent floor
Electrical cord access port (port is fully closable when not in use)
Includes tent, tent poles, rain fly, tent stakes, and carry bag. All Core tents are equipped with water resistant PU coated fabric and taped seams to help keep moisture out
Last update on 2022-04-25 / Affiliate links / Images from Amazon Product Advertising API
Browning Camping Big Horn Family/Hunting Tent
We almost went with this tent as it's pretty similar to the Coleman 8 person tent we purchased. The biggest thing that persuaded us was the price. The Browning big horn family sized tent is closer to $200 at around the $190 mark. It's a really nice tent and just might be worth the money
The base is 10×15 feet and the center is really tall at 87 inches. That's a LOT of room. I would think you could fit 10-12 people in this with a lot of room to spare! The set up seems pretty straight forward and simple. It also has a room divider, so if you want to stay separate from another family or the kids, you can! The Browning is the best large camping tents with rooms on the list. It also may be one of the best family tents in bad weather, if your camping in late fall, this also doubles as a hunting tent!
All the reviews say that the tent is reliable, durable and water proof. Many people use this tent for hunting, and it seems to hold up pretty well in rainy cold weather. Check out the updated price info below.
Click Below To See Price And User Reviews For The Browning Tent
Sale
Browning Camping Big Horn Two-Room Tent - Khaki/Coal
Our Browning Big Horn Series is a free-standing tent with fiberglass poles and steel uprights, giving ultimate extra strength and stability
Two-room wall divider, extra tall center and straight side walls gives more room for cots, sleeping bags and extra gear
Six large windows, two doorways and mesh roof offer easy entry and ultimate ventilation
Fully equipped with mesh storage pockets, polyester fly, guy ropes and steel stakes
Base Size: 10' x 15', Packed Size: 12" x 30", Center Height: 87", Total Weight: 34 lbs. 11 oz.
Last update on 2022-04-25 / Affiliate links / Images from Amazon Product Advertising API
Coleman Montana 8-Person Tent
I'm not sure I'm crazy about the design of this tent, but the people reviewing it really like it! One really neat feature is the screened porch feature. There is a screen and a sitting area so you can enjoy being "outside" and bug free.
It seems pretty easy to set up but doesn't seem to hold as many people. I would say maximum is 6 people in the actual tent portion. It may hold more, but I'm just basing my opinion on the reviews I read and photos I viewed.
You have to love the price though, the Coleman Montana is around the $150 mark sometimes less. Click below to see the updated price and more info on the tent!
Click Below For Price And User Reviews For Coleman Montana
Sale
Coleman 8-Person Tent for Camping | Elite Montana Tent with Easy Setup
Spacious 8-person tent has enough room for 3 queen size air beds
WeatherTec system with patented corner welds and inverted seams helps keep water out
Extended door awning keeps shoes and gear dry; hinged door offers easy access
Measures 16 x 7 feet with 6-foot 2-inch center height
Quick setup in 15 minutes with carry bag included for easy transportation
Last update on 2022-04-25 / Affiliate links / Images from Amazon Product Advertising API
Mountain Trails Grand Pass Tent – 10 Person
This tent really peaked my curiosity. Had it been a cabin style instead of dome, we might have went this route. Truth be told, it was actually just a little too big, we really don't need to fit 10 people. But the most attractive part is the price, this one you can pick up for around $110-$120. This is definitely one of the more affordable family sized tents under $200.
It has pretty good ventilation with a large mesh roof and a few mesh windows. It has more D shaped doors than the typical Arch doors which it claims make it a little more water proof. The Mountain Trails Grand Pass tent does come with a rain fly, making it pretty water proof.
The price was also a reason I was a little hesitant to grab this tent. I would be worried that at the lower price point you wouldn't get a tent that would hold up in the elements or a wind storm. But, if you go read the reviews, it seems to do incredibly well for a tent around $100. If you are on a strict budget, the Mountain Trails Grand Pass Tent is definitely worth a look. Check out what others are saying about this tent by clicking the link below!
Mountain Trails Grand Pass Tent Price, User Reviews And Info
Mountain Trails Grand Pass Tent - 10 Person
Spacious dome tent that sleeps up to 10-Person
Shock-corded fiberglass frame with pin-and-ring system for easy setup
Large mesh roof vents and windows provide excellent ventilation
2 large D-style doors; patented hooped fly frame adds rain protection
Stow 'n' Go duffel system; measures 18 x 6.3 x 10 feet (W x H x D)
Last update on 2022-04-25 / Affiliate links / Images from Amazon Product Advertising API
Coleman Evanston Screened Tent
With this tent, you have options. You can get a 6 person or 8 person. The 6 person is 14 by 10 feet and the 8 person is 15 by 12 feet. The nice thing is that both come under $120 typically. Again, I don't care for this design, so I don't recommend it but that doesn't mean it wouldn't work for you!
The Coleman Evanston tent comes with the same screened design as the Coleman Montana tent. If you just can't live without the screened front porch, I suppose this may be the tent for you!
Honestly, I shouldn't knock it, it gets excellent reviews and I'm sure those people are right. Coleman makes great tents and I'm sure this one is great too. Check out the link below to see for yourself!
Coleman Evanston Price, User Reviews and Info Click Below
Sale
Last update on 2022-04-25 / Affiliate links / Images from Amazon Product Advertising API
Ozark Trail 10 Person 3 Room Family Cabin Tent
We did consider this tent due to it's size. It also has more of a cabin style, which I really like. It gives you the ability to stand up a little easier. This tent is 20 by 10 feet at the base, which makes it HUGE. It has a 78 inch center height which leaves pretty decent room for standing, although it does look like it decreases by about a foot on the sides.
This one does have a little more room, so if you need a little more room, this might be a good choice for you! It does have a mesh roof and windows, which are great for air flow on hot days. It comes with a rain fly for keeping you dry during a rain storm.
Just being honest, I'm not a big fan of the maroon color of this one. It was one of the main reasons we didn't end up getting it. But that's just me, I'm sure many people out there love that color!
Ozark Trail 10 Person Cabin Tent Price, User Reviews And Info
Ozark Trail 10-Person 3-Room XL Family Cabin Tent
Not for purchase by California residents due to state restrictions.
One center door and two side doors offer separate entrances for added privacy
Six windows and two side doors for increased ventilation and panoramic views
Taped fly seams prevent leakage
Fits 3 queen air mattresses with room to spare
Last update on 2022-04-25 / Affiliate links / Images from Amazon Product Advertising API
Timber Ridge Large Tent – 10 Person
This is a pretty cool tent, and has a lot of room. I'm not a big fan of the colors, but it's actually a really nice tent. The cabin style shape means the center height is pretty close to the same as the side height. This tent is 80 inches tall, making it one of the larger center height tents. It's big enough to fit 10 people and is 14 by 10 feet at the base.
The Timber Ridge 10 Person tent has large Dutch style D doors. The description states that it really shouldn't be used in the heavy rain, which made this tent hard for us to pick. We need a tent that's going to protect us in case of any element.
If you don't need a tent that is going to keep you super dry, this one might before you!
Timber Ridge 10 Person Tent Price, User Reviews And Info
Timber Ridge Large Family Tent for Camping with Carry Bag, 2 Rooms
Center height 80 inches large enough space for 10 persons (varying by individual dimensions)
Front 2 d shape door, 1 room divider makes 2 room space, five windows and top mesh panel provides maximum cross ventilation
1 x inner tent, 1 x flysheet, 1 x carrying bag, 4 x guy ropes, 14 x steel stakes
Polyester material, breathable design structure with inner mesh is more suitable for beach, not suggest use on the heavy rain day
1-year manufacture's warranty for camp chair
Last update on 2022-04-25 / Affiliate links / Images from Amazon Product Advertising API
Coleman Tenaya Lake Fast Pitch 8 Person Tent Video Review
If you have just a moment, check out our video review of the Coleman Tenaya Lake 8 person tent below!
Best Large Family Size Tents For Camping Under $200
Thank you for stopping by! I hope that you were able to put this guide to use! I know spending $200 on a family tent can be kind of intimidating and you want to make sure to purchase the right one. Hopefully you were able to use the info above and find the best family sized tent under $200 for you!
If you found this helpful, make sure to use the floating bar on the right to share/like this video on your favorite social media platform. Also, please subscribe to our Youtube channel or like our Facebook page for regular updates! Check out the right side bar!
Thank you!
Best Large Family Size Tents For Camping Under $200 – 2018