We are a participant in the Amazon Services LLC Associates Program, an affiliate advertising program designed to provide a means for sites to earn advertising fees by advertising and linking to Amazon.com.
Hello, and thanks for stopping by! Today I'm going to do a quick Sleepingo Sleeping Pad review and 1 year update. I did already do a very brief review of the sleepingo camping sleeping pad but it was just after one use. I have been using this budget sleeping pad for about a year now and wanted to share my feelings on it.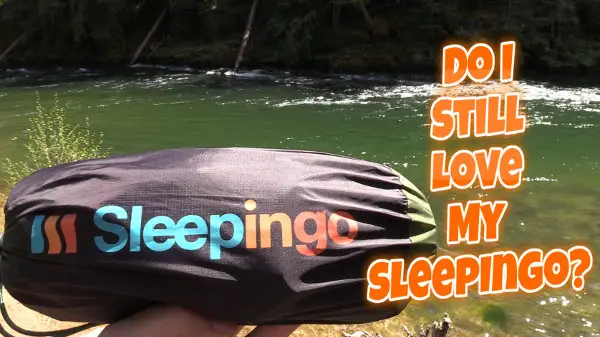 It's hard to know sometimes with camping equipment if you should go the budget route or be smart and fork over the money for the higher quality item. I can say that with the Sleepingo sleeping pad, I really fell like I made a good choice. I'm going to talk below about how much I use it and why I think it's one of the better camping purchases I have made in a while. 
My favorite thing about the Sleepingo sleeping pad is that it's affordable. You will not break the bank with this sleeping pad. Click the photo below to see what the current price is on Amazon! 
Comparison: How Does It Stack Up?
Title
Top Choice
Sleepingo Sleeping Pad for Camping - Ultralight Sleeping Mat for Camping, Backpacking, Hiking - Lightweight, Inflatable & Compact Camping Air Mattress
Packed Size
8 x 3.5 (Nalgene Bottle Size)
Photo
Last update on 2023-03-09 / Affiliate links / Images from Amazon Product Advertising API
Sleepingo Sleeping Pad Review
I have really got my use out of the Sleepingo camping pad. Not only do I use it but I have even talked a few friends into getting the sleeping pad for themselves. So far, they also really like it. I have used it in many different situations. I'll list some of those below. 
Also, I do have another review of this sleeping pad at the link below if you want to see it. That one was my initial impressions, this review is my 1 year later updated review. 
Best Budget Sleeping Pad Reviewed!
My favorite thing is taking it to the beach. I used to just lay a beach towel down, which is fine, but  having my Sleepingo is so much better. It's really comfortable to have to lay on the sand and when your done, the sand just falls right off. 
I use it to lay on rocks when I'm sitting or laying on the shore of the river we visit. I used to do the same thing, just find a place and lay a towel down. The rocks were uncomfortable but the Sleepingo really helps with that. It's not perfect when layed down on rocks, but it's much better than a towel. 
We use this sleeping pad when we go on short backpacking trips. If I'm going to spend more than 3 or 4 days I'll typically opt for something that might provide a little more thickness and warmth. But for my shorter trips, I always throw in my Sleepingo. It provides good thickness and can keep me cozy on nights that don't drop to too cold. It packs so small it's super easy to find a place to put it in my bag. 
My kids friends will use it to sleep on when they stay the night. Sometimes we will splurge and get out the bigger air mattress but when its late and we don't want to do that, the Sleepingo has come through for us in a pinch. 
It's great for putting on a hammock or cot. If you want that little extra layer of comfort, laying it on the cot or inside a hammock can be really comfortable! 
Those are just a few I can think of off the top of my head. I'm sure I have used it in different situations but so far that's what I can think of. If I know I'll be sitting on the ground for a bit, I always throw it in my bag. 
You can check out my video reviews and full written review below, also make sure you check out my write up on the best budget sleeping pads under $50. I give you the details on several different sleeping pads so you can make an informed decision. 
Sleepingo Camping Sleeping Pad Video Review
Okay, if you're like me, you might not be much of a reader, if so, I completely understand! I have a couple of videos to show you below. One is my video review that I did on Second Beach in beautiful Olympic National Park. I did a pretty detailed review of the Sleepingo Sleeping pad. The video below it is my one year update which inspired this updated review. Feel free to check both out to see my initial and updated impressions! 
One of the main things you want with a sleeping pad is comfort. The Sleepingo is surprisingly comfortable at only 2 inches thick. You can get sleeping pads a little thicker than that but then you start sacrificing packed size. The size of the Sleepingo when it's packed is probably my favorite thing. 
Overall, it's not as comfortable as a high end sleeping pad but feels really similar to some $80-$100 pads I've slept on. If your budget is in this price range you can save yourself a lot of money by going with the Sleepingo sleeping pad. If you are going to be backpacking or camping in the cold, you might want to fork over some money to get something that has a little better insulation for keeping you warmer. 
If you need something warmer I might recommend the Klymit Static V below. It's made for 4 seasons and designed to help keep the warmth in. 
Last update on 2023-02-27 / Affiliate links / Images from Amazon Product Advertising API
It's also important to note that I'm 6'5″ tall and I fit on the sleeping pad just fine. It was important to me to get one that was long enough and the Sleepingo definitely checked that box. 
In terms of overall comfort I think you will be pretty happy, especially for the price. If you have any underlying back issues or other medical issues you may want to consider spending more money on a higher end sleeping pad as they can provide just a bit more comfort. To get one that is significantly more comfortable you are probably looking at the $120 and up range. 
The Sleepingo is actually really easy to blow up and to take the air out. It has a one way valve so when you blow into it and stop, the air stops coming out. It makes it really easy to blow it up for maximum comfort. Do keep in mind that if you don't give it that last hard push of air you might be laying on a sleeping pad that's not all the way inflated. Doing this can severely decrease the comfort. 
When you deflate the Sleepingo sleeping pad you just have to make sure you poke your finger inside the valve and push back the flap to release the air. When you are folding and rolling the sleeping pad up to put away make sure the valve is at the opposite end of where you are rolling. This makes it so you can push all the air out as you roll it up.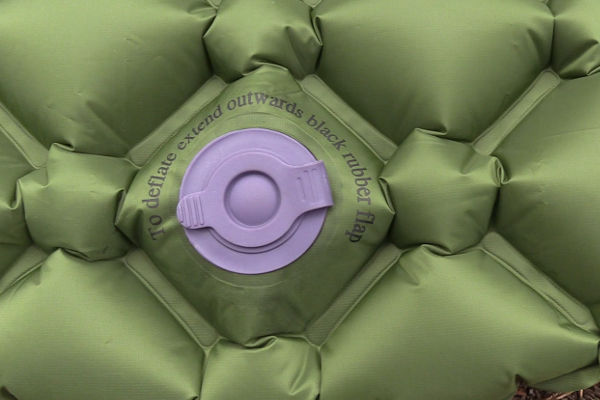 Making sure its properly inflated will be pretty important. If you don't get it all the way to it's max inflation you will be significantly reducing the comfort level. It only takes about 10 big breaths to completely fill it. Make sure you really push hard on that last breath or two to get it to its max inflation. 
This is probably one of my favorite parts of the Sleepingo sleeping pad. When you roll it up and make sure you get all the air out, it's incredibly compact. It's small enough to probably fit inside a Nalgene bottle. Usually when we go to the beach or river I'm able to fit it inside my cargo shorts side pocket. It's also under a pound so it's super light and easy on a backpack when going long distances. 
It's long enough for me being a pretty tall guy which was really important. It's about 2 inches thick, which isn't the thickest sleeping pad you can get but it helps keep it incredibly light and compact. Honestly, the difference between 2.5 and 3 inches to 2 inches isn't much. I've had sleeping pads with both of those thicknesses and I couldn't really tell any difference. 
The ability to easily stash this when folded up makes it a must have for me. People think it's pretty cool when I pull it out of my pocket and blow it up to a full sized sleeping pad. Usually they ask me where I got it so they can get one themselves. 
This is where the Sleepingo camping sleeping pad really shines. For what you get and the price you pay, it's really a hard deal to turn down. If you are like me and find yourself in situations often where you end up sitting on the ground or next to a body of water or maybe just around the camp fire, this is probably a good purchase for you. 
Last time I checked, these are right around $40 but I have seen that price fluctuate a bit so you will want to click below to see what it's current price is. 
It should also be noted that it has a lifetime warranty and comes with a repair kit. I haven't had to use the repair kit yet as it's pretty sturdy and hasn't punctured. But, I'm sure the day will come when I lay on the wrong rock or stick, when it does I'll be really happy I have that little repair kit.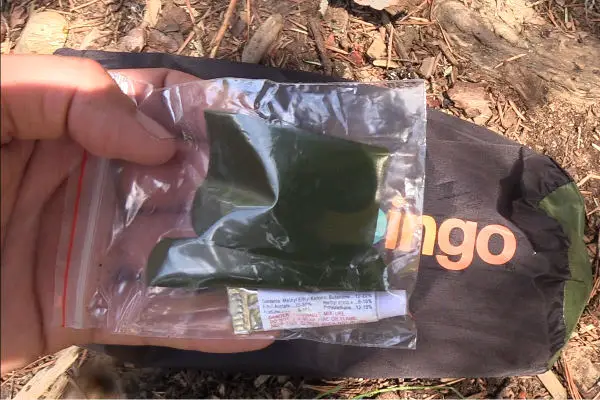 Sleepingo Sleeping Pad Review: Final Thoughts
I love my Sleepingo sleeping pad. It is one of my favorite camping/hiking/backpacking purchases over the last few years. Not because it's high end or was super expensive but mostly because I just use it a lot. It's incredibly versatile and light weight which makes it easy for me to tote around anywhere. 
It's not for everyone however. If you need a pad to keep you warm in cold situations, it might not be your best option. If you have any underlying back or medical conditions, you might need to spend more money. But if your like me and  you just need a solid budget sleeping pad that is comfortable and won't break the bank, it will be hard to find a better solution. 
If you thought this Sleepingo sleeping pad review was helpful make sure to share this page on your favorite social media platform, it really helps us out. You can also check out our Youtube channel below, if you like our videos, make sure and subscribe. 
Thank you for taking time out of your busy day to listen to me ramble on about a sleeping pad, I really appreciate it. Just make sure that the next time you think about going on an adventure, make sure you are doing more than living a little, go out there and LIVE A LOT! 
Check out some of our other adventures! 
Learn How To Camp In A Pickup Truck Bed
Come On An Epic Kayaking Trip With Us
Learn How To Make A Good Campfire