We are a participant in the Amazon Services LLC Associates Program, an affiliate advertising program designed to provide a means for sites to earn advertising fees by advertising and linking to Amazon.com.
Thank you again for stopping by we live a lot. Today I'm going to be bringing you my in depth Outdoorsman Lab ultralight sleeping pad review. If you have watched any of our videos or read any of our reviews you would know that we have a lot of these sleeping pads. This review is not just based on reading a couple of Amazon reviews and pretending like we know everything about it. We actually own a pair of Outdoorsman Lab ultralight sleeping pads and put them to the test.
Before owning the Outdoorsman Lab sleeping pads my favorite sleeping pad in my arsenal was the Sleepingo sleeping pad. I honestly didn't think I would find a sleeping pad in the same price range that would dethrone the Sleepingo but I can confidently say that the Outdoorsman Lab has done what others have not, won me over! 
Lets take a look below and talk about my experience with the Outdoorsman Lab sleeping pad. We have used them to sleep on in the tent as well as taken them to many different locations to put their durability and usability to the test!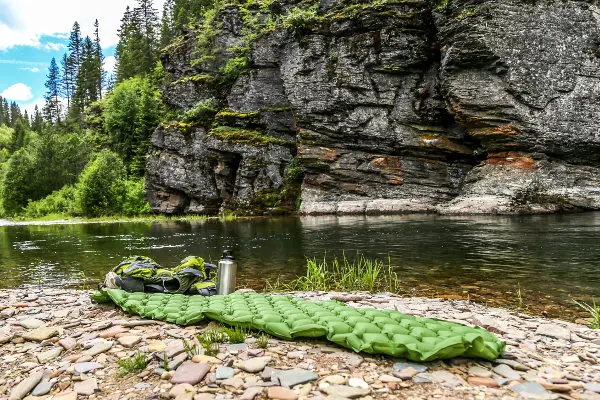 New Official Top 3 Ranking
Below is my new official ranking of the under $50 sleeping pad range. Unless your camping in cold weather I can't really see a reason to go with anything over the $50 range. Take a look at my official ranking below! 
Sleepingo 1 Year Update Review
Title
Runner Up
Sleepingo Sleeping Pad for Camping - Ultralight Sleeping Mat for Camping, Backpacking, Hiking - Lightweight, Inflatable & Compact Camping Air Mattress
Best Overall - Top Choice
OutdoorsmanLab Ultralight Sleeping Pad - Ultra-Compact for Backpacking, Camping, Travel w Air-Support Cells Design (Blue)
Photo
Packed Dimensions
8 x 3 inches (Nalgene Bottle)
Runner Up
Title
Sleepingo Sleeping Pad for Camping - Ultralight Sleeping Mat for Camping, Backpacking, Hiking - Lightweight, Inflatable & Compact Camping Air Mattress
Photo
Best Overall - Top Choice
Title
OutdoorsmanLab Ultralight Sleeping Pad - Ultra-Compact for Backpacking, Camping, Travel w Air-Support Cells Design (Blue)
Photo
Packed Dimensions
8 x 3 inches (Nalgene Bottle)
Last update on 2023-03-01 / Affiliate links / Images from Amazon Product Advertising API
Outdoorsman Lab Ultralight Sleeping Pad Review
Now that we have finished testing and using the Outdoorsman Lab ultralight sleeping pad its time to share our findings and why this is the best sleeping pad under $50. 
We have been using the sleeping pad for a little over a month now and want to share with you what we loved about it and what we would change in a perfect world. We don't just use this as a sleeping pad, these little pads are incredibly versatile and can be used every time we visit somewhere outdoors. Not just as a sleeping pad to sleep on. 
Also, be sure to check out my video review of this sleeping pad at the bottom of this review! 
When deciding where to allocate my money for my camping and backpacking adventures the first thing I consider is functionality. Is this something I need or is it a luxury item. Does the use justify the price? I can confidently say out of all the outdoor equipment I have bought over the years, this sleeping pad may justify the price as well as any other item I've ever bought. 
Not because it's a great little sleeping pad but because I use it in almost every outdoor situation I'm in. We only have 2 of them but my children will fight over who gets to lay in the Outdoorsman Lab. We have various other branded sleeping pads. My previous favorite is the Sleepingo, but we also have a Moon Lence and an AirExpect sleeping pad.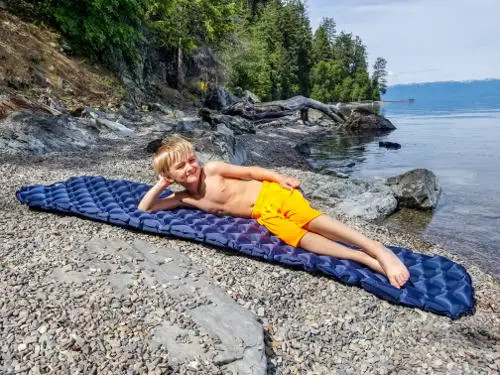 My kids actually fought over the Outdoorsman Lab sleeping pad because it was "more comfortable". My daughter who is 15 told me that she felt more like she was off the rocks when using it. I had been using it as well but had not slept overnight yet. But the fact that my kids were  using it and loving it was definitely a good sign. You can see my daughter using it below at the Lake.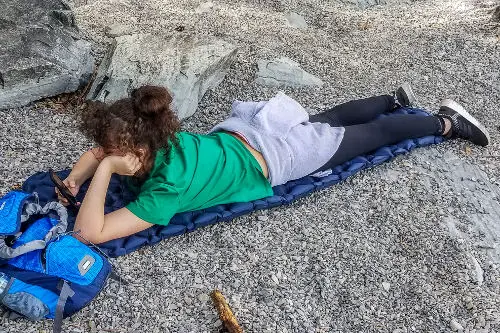 But the sleeping pad aspect these is just the tip of the ice burg. We have used these for overnight sleeping twice now and loved them, but they get used over and over down by the lake or river or even just lounging around a fire. My son is part of a basketball team and his teammates frequent out home. They have used it for laying around on and sleeping on overnight. They really seem to like it. 
There are just so many reasons to throw this in your bag and bring with you to wherever you are going and you don't want to haul chairs around. You can just sit on it on the ground or you can lay comfortably on it. Just look how small they roll up to. You can see it in my hand below for scale, this was after I had already taken it out and put it back. It will fit in it's travel sack again without needing to labor over putting it away.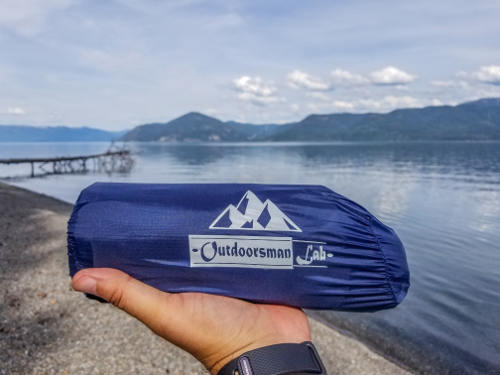 I also wanted to call out how easy it is to blow up and put away. I saw some user reviews of people saying it takes more than 15 breaths to blow up. I'm really confused by this as it literally takes me 7 breaths for a full inflate. They are big breaths but its 100% fully inflated after 7-8 breaths. I also noticed no air escaping between breaths or when I put the valve back in. 
Putting it away is simply releasing the valve, you can just push it in or pull it out a bit. Either way, the pad deflates in just a few seconds. You fold it over a couple times and roll it up. Make sure to leave the valve on the end your not rolling to start with, that way you can release any extra air right before finishing the roll and putting it away. 
The versatility of the Outdoorsman Lab ultralight sleeping pad is truly is best feature. The light weight and small size of its storage makes it so easy to throw in a bag and almost forget about until you are unpacking. If you think you are just buying this to sleep on in a tent, think again! Get your money and use out of it and bring it to the beach!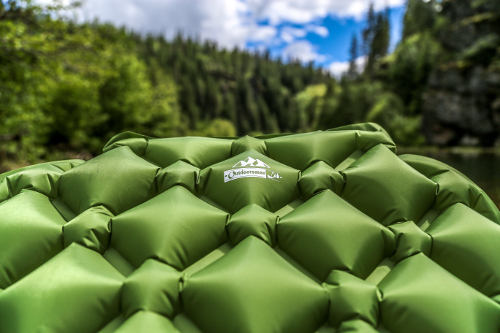 When we were at the lake we had two women stop by and ask us what it was? We told them it's a sleeping pad but we use it as a lounging pad. They thought it was super cool and couldn't believe its price point and said they would definitely be buying some! The functionality of these pads will stand out as the best thing about them, it will be money you won't regret spending! 
We have already used the Outdoorsman Lab sleeping pad several times and have had no problems with them losing air or being punctured. We do have the peace of mind with a repair kit however, which is a nice bonus! 
I'm sure many of you are curious about the comfort of the Outdoorsman Lab sleeping pad. I was actually happier with the comfort of this pad than I originally thought I would be. I figured it would be exactly like the Sleepingo pad but it turned out to keep me off the ground a little better than that pad. 
When I slept on it I could tell almost instantly that it was distributing my weight better and helping me keep off the ground. For point of reference, I'm 250 pounds and 6'5″. So I have a lot of weight to distribute. When I was laying flat, I couldn't feel the ground at all. When I slept on my side, I could feel my hip rub the ground a bit.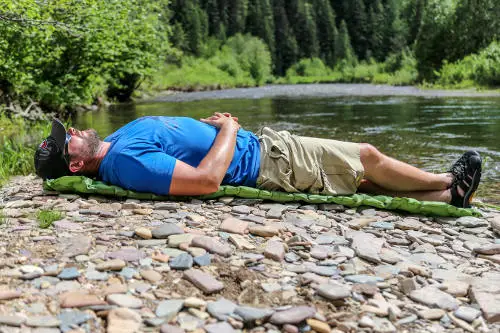 It kept me pretty comfortable though, all things considered. Sleeping pads can be really expensive. Usually what you pay for is R-Value which is the amount of insulation a pad has to keep you warm. We don't use these pads in cold weather which is fine because they weren't really made to take out in cold weather. I wouldn't recommend anything under 40 degrees with an R-Value of just 2.2. 
With cold weather not being an issue, I was impressed with how well this sleeping pad kept me off the ground when compared to others in its category. Obviously if you go out and spend $100 or more the pad will be a little warmer and a little more insulated for more warmth.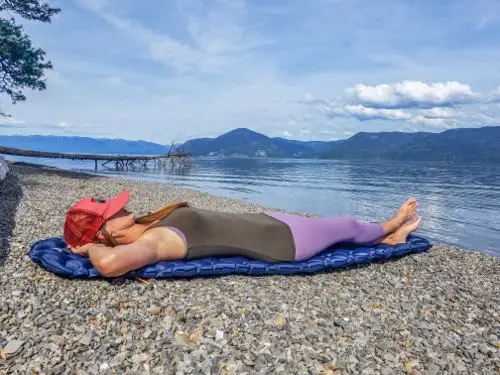 I have personally tested several sleeping pads in the price range, and the Outdoorsman Lab definitely takes the cake on comfort. I know they have a patent on their sleeping pad and I'm assuming it's in the way the Cells are laid out or something along those lines. I'm not sure how they did it, but they have made it slightly more comfortable than the others. It's the way the weight seems to be distributed that seems better. It's not much thicker than other ultralight pads in this price range but it definitely distributes the weight better. 
I have been on sleeping pads in the $80-$100 range that felt like a rock. This pad performs better than even some of them. There are some pads in that range however that are a little more comfortable and will keep you a little warmer. 
If you are looking for a sleeping pad that is going to be easy on your wallet and back, the Outdoorsman Lab sleeping pad is the way to go! 
OutdoorsmanLab Ultralight Sleeping Pad - Ultra-Compact for Backpacking, Camping, Travel w Air-Support Cells Design (Blue)
Best Design for Active Outdoor Enthusiasts: After years of drafting, producing, and testing tons of sleeping mat designs, the OutdoorsmanLab team...
Perfect for Backpackers and Hikers: The Ultralight sleeping pad can roll up to 8x3 and weighs only 14.5oz - similar to a water bottle. This is perfect...
Sleep Better Under the Stars After a Long Day of Hiking: Even though it is very compact, this camping pad expands to 73 x 22 and has an optimal...
Easy Inflation & Deflation for Explorers on the Go: Our camping mat has an easy-to-use air valve for quick inflation (only 10-15 breaths). A few more...
Quality Guaranteed or Your Money Back: OutdoorsmanLab sleeping pads are carefully inspected before shipping to ensure that they are in perfect...
Last update on 2023-02-27 / Affiliate links / Images from Amazon Product Advertising API
When it comes to features, what you see is what you get. It doesn't have a lot of bells and whistles but does what it's made to do really well. You see some of these sleeping pads have head rests or even cup holders. The Outdoorsman Lab sleeping pad doesn't have those bells and whistles but does what it's supposed to do better than others that have bells and whistles. I'd rather have a functional and comfortable sleeping pad rather than a head rest or cup holder. 
With that being said, I really like the sleeping pads with a head rest. I don't like to have to pack a pillow for when I'm lounging around. Obviously, this isn't a problem when I'm sleeping on the pad as I've packed something to use as a pillow. It would be nice to have that head rest when laying by the river instead of needing something extra. 
There aren't a ton of extra features here, but the pad does what the pad is intended to do really well. 
The dimensions and specs are below. The three pads to the left are the sleeping pad I'm review today. They are all the same just different colors. Right below that is how it compares with some of the other brands. Click either photo to head over to Amazon and see price, user reviews and even a cool video! 
Like shown above it does come in 3 different colors, the orange, green and navy blue. They all look great, right now I have the green and navy blue and I think they both look fantastic. 
Durability is super important with a sleeping pad. Especially if you are using it the way I do, which is pretty much everything. You need to know it's well made and can withstand the occasional sharp rock or twig. 
The pad is made out of thick durable and lightweight abrasion resistant Nylon. Its water and rip resistant. So far, I have had it on all kinds of surfaces including sticks and rocks. It hasn't felt like anything has come close to putting a hole in it. Obviously, it's not invincible so you do want to make sure and clear out any sharp looking rocks or sticks as it can be punctured.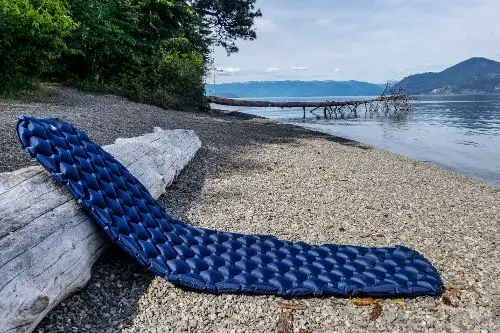 With that being said, it does come with a small repair kit. That is really nice actually. Most seasoned backpackers will carry something to patch a hole but if this is your first time it might be something you forget. The patch kit gives you ease of mind and makes you feel a little better if you lay it down in the wrong spot. 
I haven't tried floating in the pad yet, which I'm surprised we haven't done. But I have seen water just roll off of it. It did a great job of puddling the water and just sliding off. It didn't stay wet long at all and tried out in just minutes. This is nice if you do happen to spill something in the tent, you shouldn't have to sleep on a wet pad all night. 
OutDoorsman Lab Sleeping Pad Video Review
If you are like me, you like a good video review. Check out the Outdoorsman Lab Sleeping Pad video review below! 
Outdoorsman Lab Sleeping Pad Review Conclusion
Do better sleeping pad exist? Definitely. It just comes down to what you need and what your willing to pay. If you need a sleeping pad to keep you warm in the cold, this is not the best option. If you are looking for an affording sleeping pad that is comfortable to sleep on, easy to transport and extremely versatile this is definitely for you. 
I've used several different sleeping pads in this same range and the Outdoorsman Lab sleeping pad is definitely the best that I have tested. They have somehow managed to take a sleeping pad made in a similar fashion be considerably more comfortable with their patented design. 
If you are on a budget and need a sleeping pad, it's really hard to go wrong with this option. They have a 30 day money back guarantee, so the worst that can happen is you don't like it and get your money back. 
I really hope you enjoyed this Outdoorsman Lab ultralight sleeping pad review. Whether you need it for camping or backpacking, we hope we were able to help you make a better more informed decision. If you found this helpful, please feel free to share this article on your favorite social medial platform!
Also, be sure to check out our YouTube channel. It would mean a lot to us if you subscribed and watched for our great family friendly content! Check it out and subscribe below!
We are a participant in the Amazon Services LLC Associates Program, an affiliate advertising program designed to provide a means for sites to earn advertising
Read More »