We are a participant in the Amazon Services LLC Associates Program, an affiliate advertising program designed to provide a means for sites to earn advertising fees by advertising and linking to Amazon.com.
There is nothing better than meal time while camping! You reach in your cooler and BAM! All your food is soggy and wet. NO MORE! Today I'm going to teach you how to keep food from getting wet in a cooler. Finding wet and soggy food in your cooler can be a real buzz kill and can make even the chillest camper get a serious case of the hangries. This camping tragedy can seriously ruin the mood.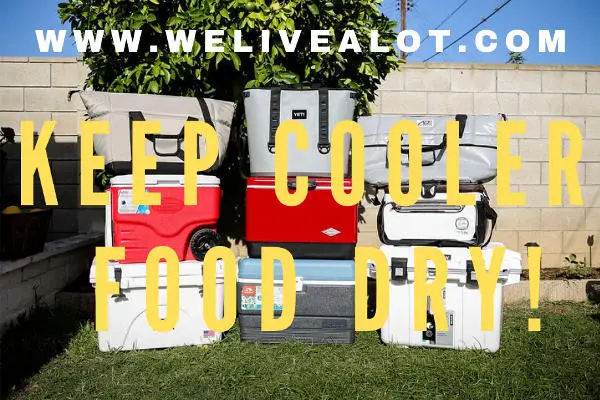 Never let this happen to you again! Below we are going to go over several methods you can  use to make sure you keep food from getting wet in the cooler from here on out.
Were going to tackle this in depth below, but for now check out the quick answer!
Short And Easy Answer
How to keep food from getting wet in a cooler? The best way is to make sure you have a cooler that keeps the ice better and melts less ice. For your existing cooler the easiest way will be to invest in a dry rack that elevates your food above the ice in the cooler. Getting some good quality zip lock bags and snap shut containers can be another way to keep your food dry. You can even use frozen water bottles in place of ice. Make sure to constantly drain your ice to ensure most of the water is out of the cooler as a last effort to keep your food from getting wet and soggy. 
How To Keep Food From Getting Wet In A Cooler
We are going to cover a range of different ways to help keep food from getting wet and soggy in a cooler. Some of these will be different items you can buy to help your situation but others are simple adjustments you can make to easily help keep your food dry and out of the soggy mess that's the bottom of a cooler. 
Lets jump in and see the how to keep your food from getting wet in a cooler. 
One of the easiest ways to avoid your food ending up in water at the bottom of your cooler is to find a good cooler that doesn't let the ice melt as fast. Not only will you not have to worry about water on shorter trips, but you will be able to keep up with emptying the water on a regular basis. 
The better coolers are a little more expensive but are a great investment, especially if you use your cooler a lot. If you use your cooler more than 5-8 times per summer, you definitely should invest in a better cooler that keeps the ice longer. Many of the higher end coolers will keep ice all day for a day trip to the beach or to a picnic at the park. Not having any excess water is by far the easiest way to resolve this situation. 
Check out some of the great coolers we recommend below. Not surprisingly the Yeti is our king of coolers, but we give you some other great alternatives below. You can check out the price of each cooler by clicking the link and seeing them on Amazon!
Runner Up
RTIC Hard Cooler, 45 qt, White, Ice Chest with Heavy Duty Rubber Latches, 3 Inch Insulated Walls
Top Option
YETI Tundra 45 Cooler, White
Best Budget Option
Igloo BMX 52 Quart Cooler with Cool Riser Technology, Fish Ruler, and Tie-Down Points - 16.34 Pounds - Carbonite Gray and Blue
Photo
Runner Up
RTIC Hard Cooler, 45 qt, White, Ice Chest with Heavy Duty Rubber Latches, 3 Inch Insulated Walls
Photo
Top Option
YETI Tundra 45 Cooler, White
Photo
Last update on 2023-03-13 / Affiliate links / Images from Amazon Product Advertising API
Cooler Pro Tip
Often times when you're shopping for a cooler you will notice that the lighter colors are sometimes more expensive than the darker colors. This is typically because darker coolers do not hold ice as long. They draw more heat, especially when left in the sun. To keep better ice to ensure your food doesn't get wet and soggy, make sure you pick a white or light colored cooler. White isn't always the most attractive and gets dirty faster but it's always the most functional for a cooler.
Separate The Ice From Food With A Rack
If you opted for a cheap cooler (no judging, I used one for years) then the best thing you can do is separate that food from the ice. There are different kinds of trays and racks that you can put on top of the ice to make sure your perishable items can't ever touch it. 
The best way to execute this is to use a few cans as pillars in your cooler. Put the track on top of the cans to help separate from the ice. This will make sure your food never reaches the watery bottom. 
You can also get a tray that fits in your cooler or grab a tray that fits inside your cooler that keeps the food out of harms way (water, harm is water in this case). 
Check out the tray below, you can grab one of these, put all your food you want to keep dry in it and you will be happy you did. The one I'm showing you below even comes with a lid, this will help you stay super dry. 
High Quality Tupperware Containers
I'm not a huge fan of relying on Tupperware either but just like Zip Loc bags below, these are a quick and easy option. You can pick them up at the grocery store last second which can be a life saver. However, I have used cheap Tupperware for this purpose in the past. It did not end well. I had soggy and soaked taco meat. I was camping and I ate it. I didn't enjoy it much but I was hungry. Don't be me… 
Get some high quality glass Tupperware like the containers I'm referring you to below. This is not the time for generic brands, go with Rubbermaid. There is a reason they are the best seller of Tupperware, they are the kings. Get some good high quality waterproof Rubbermade Tupperware contains for your cooler. 
Get High Quality Double Protection Zip Loc Bags
I don't like relying on zip lock bags but it's an option if you are looking last minute or want to go with the cheapest option. There are a couple things to really focus on here. It's important that you don't get generic bags. Get Ziploc brand with the Grip 'n Seal technology. You can put so much more trust in the actual Zip Loc bags rather than the generic competition. 
Don't put the hands of your food in a cheap bag. If you are going to go with this option, spend a little extra money and get the good bags. If you want to be super super safe, double the bags, in case of bag failure. Get the bags below, they will work great! 
Pack The Cooler Correctly
Keep food from getting wet in a cooler by simply packing your cooler correctly. You want your drinks and other items that do not leak/take on water at the bottom under the ice. Place the food that you don't want to take on water at the top. If you have a Zip Loc bag, Tupperware container or rack/tray at the top it even further enhances your chances of keeping your food dry and yummy. 
Packing a cooler correctly really isn't rocket science but you should have some form of ice/cooler at the top. Cold air travels down, it might be a good idea to keep ice packs on the top (the kind that don't leak water) to help keep the food at the top nice and cold. This helps ensure your top items never get too warm. 
Cooler Pro Tip
One of the biggest reasons coolers lose ice is due to being open and shut continuously. Imagine smoking or BBQing, when you open that top, you lose all your heat. Same with a cooler but reverse. When you open that lid you lose all your cool, or do you let heat in? Whichever it is, your ice melts. One of the most important things is to make sure when you need to open your cooler your in and out quickly. If your making food, open your cooler get EVERYTHING you need then close. If you have to go back and forth several times your ice will melt faster. Try to limit children getting in and out of the cooler frequently to grab drinks. They often forget to push the cooler down all the way and seal it or forget to latch it closed.
Drain Melted Water Regularly
I have heard my friends say they keep the water in their cooler because it helps keep the rest of the stuff at the bottom cold. This may be true however, I like to clear my water out to eliminate any chance that my food winds up down there and gets wet and soggy. 
Every 6 hours or so, check your cooler and open up the release valve at the bottom. Let the water drain and plug it back up. If you stay on top of the water there is rarely ever enough water in there to really get your food wet. No water equals no wet food. 
Alternatives Ice Equals No Water
Not using actual ice is a great solution. It's not always as convenient using ice alternatives but if you prepare for packing the cooler, you can totally pull this off. You are going to have to use ice packs and other water filled items to act as ice. One option is using water filled water bottles. You have to prepare for this and they will take up more room in your cooler. 
Take some plastic water bottles and fill them up with water. Make sure not to fill them to the brim as they might expand and break. Let them sit over night and use them as your ice. You can also use water balloons or any other object that can freeze and be stored. Or, you can take the cop out route and just buy some cooler ice packs. Check out some of the cool options below. 
Vacuum Food Sealer: Lets Get Serious
Okay, you've decided your not playing around. Your getting serious. If you really want to keep your food dry and super fresh, get a vacuum food sealer. This will lock in your freshness and opening it when you camping will literally be like it coming out of the oven or fridge. 
If you are not familiar with a vacuum food sealer, lets take a look at the video below. 
Guys, look. If you are still getting water in your food after getting a vacuum sealer, you need to give up. This is probably the most fool proof way to keep your food dry. And lets face it, there are many great uses for a food sealer. Great for meal prepping and planning out meals and storing your foraged food. 
We huckleberry pick where we live and this works great for storing and freezing our huckleberries. If we don't vacuum seal them, they are never all that fresh. If you are really sitting there wondering how to keep food from getting wet in a cooler, this is your top option. Its not the most cost effective but probably the most overall effective. Check out the Geryon below! 
Keep Food From Getting Wet In A Cooler: Final Thoughts
Wet soggy food in the cooler is a serious buzzkill when your camping. If you are here because you are wondering how to keep food from getting wet in a cooler, I think this should really help you out. 
Honestly guys, mixing a few of the options above will keep your food dry. If you just spend some time and plan your trip and make sure you buy everything you need ahead of time you will always have dry cooler food. Keeping your food fresh and cold is really important. Not just for taste but you can protect yourself from eating spoiled food. Getting sick while camping is even worse than eating soggy food. 
If you buy Zip Loc bags and store those bags on a rock or inside a tray while also emptying your cooler water regularly, there is next to no chance of your food getting wet. Most of the stuff isn't very expensive, unless your getting a food sealer! Which, lets be honest, we all want one of those. With a little planning and getting a nice cooler you will never have soggy cooler food problems again. 
I hope this helps you keep food from getting wet in a cooler. If it did and you like this article, giving us a share on any of your favorite social media would be much appreciated. We also have some other great content, some of which you can check out below. Also, be sure to check out our Youtube channel below. Subscribing to our channel means more to us than you could possibly know. 
And remember folks, don't settle for getting out there and living a little, get out there and LIVE A LOT!
Budget Sleeping Pads For Camping