We are a participant in the Amazon Services LLC Associates Program, an affiliate advertising program designed to provide a means for sites to earn advertising fees by advertising and linking to Amazon.com.
I'm excited to teach you how to hang lights in a camping tent. There are multiple ways of t doing this and I'm going to show you the most effective. We will cover different types of light you can hang from your tent as well as how to overcome certain obstacles, like not having any straps in your tent to hang lights from. 
Hanging lights in your camping tent is simple. You can use the straps on the top of your tent that come pre installed with most tents. If the tent doesn't have any straps you can use magnets or Velcro to assist in hanging string/rope lights or hanging lantern with a hook. You just need to decide if you want string/rope light to hang or a lantern style light. Both ways are effective at lighting an entire tent and it really just comes down to personal preference.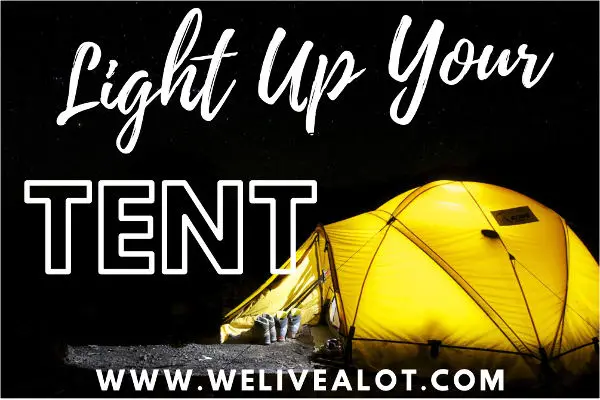 Today I'll be showing you all the information above as well as showing you the different lighting types available out there. There are a lot of different options for either string or rope lighting as well as the hanging lantern style lights. Some are just white lights while others actually come with a remote so you can change to different colored lights. Some have timers and strobe options as well. Lets really dig in deep on how to hang lights in a camping tent as well as what lights styles and types are available for you! 
5 Best Hanging Light Options For A Camping Tent
Title
Best Hanging Light
LE LED Camping Lantern Rechargeable, 310LM, 5 Light Modes, Power Bank, Waterproof, Mini Flashlight with Magnetic Base for Hurricane Emergency, Outdoor, Hiking, Home and Car
Best Lantern
Lighting EVER 1000LM LED Camping Lantern Rechargeable, 4400mAh Power Bank, Camping Essential with 4 Light Modes, IP44 Waterproof Lantern Flashlight for Hurricane Emergency, Hiking, USB Cable Included
Best Bulb Style
EverBrite 3-Pack Camping Lights - 3 Lighting Modes, Portable LED Bulbs Ideal for Kids' Adventure Activities, Backpacking, Camping, Picnic, Emergency and More, 3 x AAA Batteries Included
Rope Light
Power Practical Luminoodle Color - 5 ft Color Changing LED String Lights - Outdoor LED String + Lantern for Camping, Hiking, Safety - Remote Control, Dimmer, Waterproof
Best Solar Option
LuminAID 2-in-1 Solar Camping Lantern and Phone Supercharger - Inflatable LED Lamp for Camping, Hiking and Travel - Emergency Light for Power Outages, Hurricane, Survival Kits - As Seen on Shark Tank
Photo
Color Options
Red/Yellow/Blue/Green (Comes With All 4)
Brightness Levels
4 Color Options & Dimmable
Rechargeable
No - 3 AAA Batteries (Not included)
No: Powered By USB Device
Yes: Solar Or USB - 2000mAh or 4000mAh Options
Hours Of Light
USB Powered - Depends On USB Charging Device
Turbo Mode: 3-5 Hours - Low Mode 100 Hours
Weight
5 Feet Long/Weighs Almost Nothing
Cool Features
Magnets On Base and two metal loops
Warm Light Option / Super Bright / Water Resistant
Hang individually / Carabiner Hook / Individual: Use Two In Tent and Two To Light Camp
3 Magnets On Rope / Storage Bag Doubles As Lantern
Long Lasting / Solar or USB / Great Atmospheric Glow
Last update on 2023-09-02 / Affiliate links / Images from Amazon Product Advertising API
How To Hang Lights In A Camping Tent
Lets talk for a bit about some ideas on hanging a light in a camping tent. The first thing you need to do is decide which kind of light you want. I have listed several different types of lights above that could be an option for you. The one thing they all have in common is a way to hang them from the top of a tent. The rope or string lights are a little trickier to hang but it's still very possible. Actually, I made a video below on this. 
In the video above, I'll show you how to string rope lights and the light bulb style lights from your tent. I use a combination of the magnets provided on the luminoodle rope lights as well as the pre installed hooks inside my tent. It's a fun video, you should definitely check it out. If you just want to read about hanging lights in your camping tent then carry on! 
How To String Rope Lights In A Camping Tent
One of my favorite ways to hang lights from a tent is to get a rope light. Similar to the Luminoodle. I'll link the Lumioodle below but want to talk real quick why I like this as the best option. The rope lights seem to cover a larger part of the tent since you can string them from one location to another. This gives you a string of lights instead of just one light source. 
The easiest way to string the lights is to use the pre installed hooks that should be on the inside of your tent. If you don't have those hooks, you can customize your string of lights and tent to make it easy to hang them. 
You can attach a magnet to your string of lights (The Luminoodle comes with magnets already) then attach the other magnet (or piece of metal) to the top of your tent. You can use some tape to put the magnet on the outside of your tent. You can use a washer but I recommend using an opposing magnet to increase the strength of the attachment. 
You want to make sure that when you attach the magnet to your tent attach it before you put on the rain fly. It will make a much better attachment if you attach it to the tent itself then put the rain fly over the top. Attaching the lights will also help secure the magnet to the top. 
You can attach the magnet to the lights by using some glue or getting a string of lights that already have magnets attached. Like stated above, the Luminoodle is a cool string rope light product because it has magnets already pre installed. You can also use a thin layer of take to wrap around the magnet and attach it to the string of lights. The magnet should still attach to the opposite magnet through a couple think layers of tape. 
Last update on 2023-09-17 / Affiliate links / Images from Amazon Product Advertising API
You can use some duct tape to attach the magnets to the tent itself. Make sure and drape your lights on the outside of the tent so you know where to put the magnets. You can see how I did this in my video above. That way, once you get inside the tent to hang the string of lights the magnets will be placed correctly.  
You can also use magnets to attach the hanging lights. One of the lantern styles actually comes pre installed with a larger magnet so you can hang it from metal. I should also note that if you have metal tent poles there is a good chance your string lights or hanging lantern will attach to them. Please, make sure to try this out first. Not all metal types work with magnets, make sure your tent poles will work with your magnets before depending on them when your out camping. 
Sale
LE LED Camping Lantern Rechargeable, 310LM, 5 Light Modes, Power Bank, Waterproof, Mini Flashlight with Magnetic Base for Hurricane Emergency, Outdoor, Hiking, Home and Car
Enhanced Version with 5 Adjustable Brightness Levels: Experience the...
Integrated Power Bank: This lantern boasts a built-in rechargeable...
Compact & Lightweight: Although small in size, this lantern packs a...
Convenient Magnets & Hooks: The base features two magnets allowing it...
Diverse Applications: With an IPX4 water resistance rating, this...
Last update on 2023-09-02 / Affiliate links / Images from Amazon Product Advertising API
For the best results hanging rope or string lights to your tent you will want to use a combination of the magnets and installed straps. The straps will make sure the string lights never fall and the magnets will help keep the lights from drooping. It's a perfect combination. You don't need the pre installed straps, but they make it much easier.
Having the straps also makes it easier to hang the light bulb or lantern lights to the rope lights. If they are just hanging by magnets they might not have the strength to hold up a lantern. However, if they are strung up by the straps in the tent, the string lights will also hold up a light with a hook. 
Velcro is another option that can be used in a similar way that the magnets are. You will need to glue a piece of Velcro to your light source. Whether it's the hanging lantern or string lights. Then attach the other piece of Velcro to the inside of your tent. This is different than the magnet, make sure and attach the Velcro to the inside and not the outside. 
They do make double sided Velcro but I doubt the glue will be enough to hole up a lantern. I wouldn't want to risk that. I'd get some gorilla glue, which would be nice since it would stay in your tent for future uses. It's a little more of a hassle to install than the magnets but it can be a permanent update to your tent. Once you get the Velcro attached it's good to go moving forward. 
Check out some double sided Velcro and Gorilla Glue on Amazon below!
Best Camping Lighting Ideas
One of the best parts of most of the lighting I have talked about above is the fact that they are also great camping lighting ideas. You don't just have to use them in the tent, you can also use them around your camp site. I wanted to go over some really cool camping lighting ideas that use the items above as well as some other items.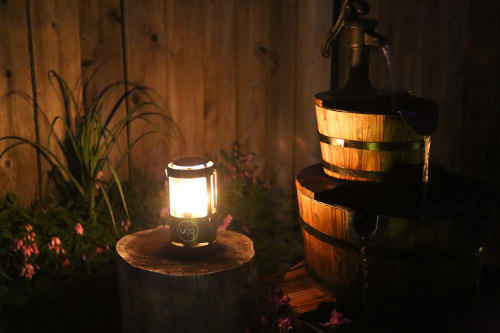 It's great to be able to use the same lights that are hanging from your tent to also light your camp site. Whether you need camping kitchen lighting ideas or maybe even camping bathroom lighting ideas, these should work for any situation! 
Ideas For Hanging Lights In Your Camp
One of the most obvious is to find some good tree branches and hang lights from them in the areas you need the light. Sometimes the trees aren't close enough and you need to be able to hang lights elsewhere. You can string up rope or even kite string from 2 trees and hang lights. 
If your light has a carabiner type hook, you can hang the rope or string then just attach the light. This makes the light bulb style lights listed below as super versatile options as they are attached with a carabiner. You can throw them on the rope or string then grab them down to bring into the tent with you. 
If you want to hang a lantern with a closed hook just make sure you put the light on the string before you connect it to the other tree. This also makes it a little harder to take down and bring to the tent. Making the light bulbs a better option for this situation. You can also string the bulb lights at multiple locations since it comes as a four pack. 
It should also be noted that a package of Carabiners are super cheap. They give you the versatility to hang a light with a closed handle or loop on the top. You can get a pack of carabiners super cheap below. 
Last update on 2023-09-17 / Affiliate links / Images from Amazon Product Advertising API
Mason Jar Solar Light Or Lantern
Lanterns are cool, but if you can turn a Mason Jar into a lantern, you are definitely onto something. Not only is this a great light source but it really spices up your camp lighting. There are several camp lighting ideas that involve using a mason jar as a lantern. One of my favorites is to stuff a string of lights into the jar and light it up. 
You can use Christmas lights for some color or you can use a warm rope light to give a more warm glow. Or you can find some string lights that will do warm lights or colored so you can have the best of both worlds. The Luminoodle I showed you above actually does this! When your done with your Mason Jar Lantern, you can take the Luminoodle out and string it up in your tent for bed time. 
You can also get solar powered lids connected to a string of lights that fit Mason Jars. It's a really cool product and 100% worth it, check it out below. You can also grab a few shepherd poles to hang them to line a walkway or if no trees are available to hang ropes. 
Click the photo below to see the price on Amazon for the Mason Jar Lids. 
Keep in mind the jars aren't included but you can buy a package of Mason Jars on Amazon as well, check out the price for six below. 
It's not going to put out a ton of light, but people will be jealous of your Mason Jar solar lights at the camp spot, I can promise that. They provide a really warm and fun atmosphere! 
Nothing says warm inviting light like a candle light. Candles can be tricky though, if there is a slight breeze. You can fix that with a UCO Candle Lantern. I actually own the UCO Candlelier 3 candle deluxe candle lantern. I love it. It's one of my favorite peices of camping equipment. It's not really necessary, but it creates the best and warmest light. 
The light is warm and not harsh, which is why I love it. You can add citronella candles to help keep the bugs away. It provides enough light to see each other but not so much light you have to squint when you turn it on. You can even still see the stars when it's lit. 
I strongly urge you to check out my written review or video below! 
I hope you were able to learn how to hang lights in a camping tent. It's really not that hard and there are some awesome products out there that can really help you out. There are also some great products and ideas to help you with some creative and fun camping lighting ideas.
Camping and tent lighting is one of those areas that can produce some really fun and neat results. The amount of creativity you can put into it is almost endless. It also produces some really great photo opportunities, especially if you have an SLR camera.
I hope you found this helpful, if you did there is a floating menu to your left hand side of the screen where you can like, tweet or pin this article. If you do any of those things, it helps us out more than you know!
You can also check out our YouTube channel below, it's full of great videos with gear reviews, exciting family adventures and other great stuff. You can subscribe below!
Thank you again, I hope the next time you hang lights in your camping tent, it's easy and your well equipped.
Remember guys, don't ever settle for living a little, get out there and LIVE A LOT!
Heat A Tent With A Candle Lantern