We are a participant in the Amazon Services LLC Associates Program, an affiliate advertising program designed to provide a means for sites to earn advertising fees by advertising and linking to Amazon.com.
I have been tent camping for years. In my experience learning how to keep a tent dry during rain is one of the most important skills to have. It's rare that a tent camping trip gets ruined for me, but over the years the ones I remember the most are the trips where I was wet and cold. You can have a lot of fun tent camping in the rain as long as you are prepared and understand how to stay dry and warm. I'm glad you're here to learn more about how to keep your tent dry during a rain storm!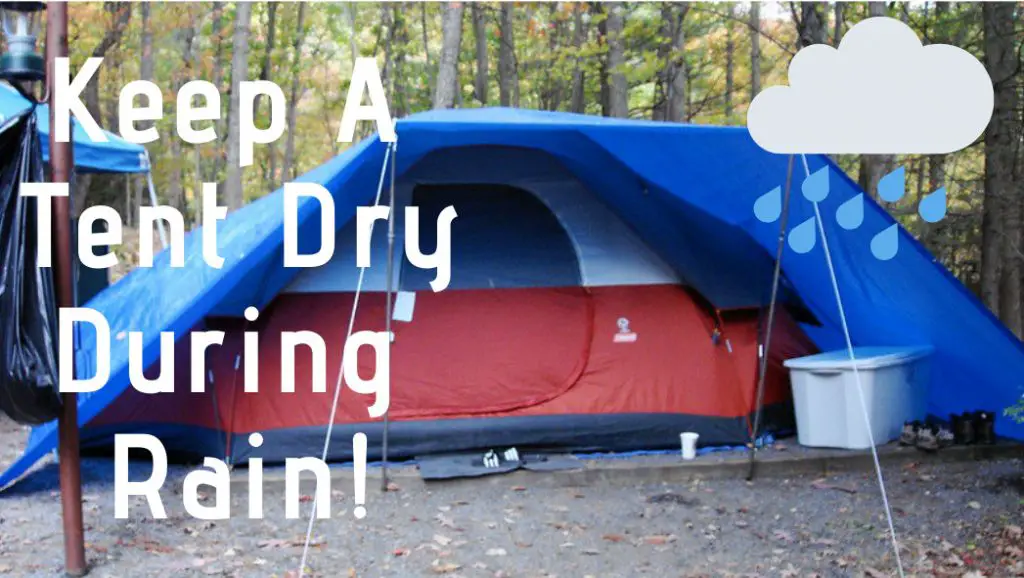 Whether you planned on camping in the rain, or are just preparing for the possibility of a storm, here I'll provide you with some tips on how to keep a tent dry in the rain. Waking up to a wet tent can be annoying and inconvenient. One of the quickest ways to ruin a camping trip is to get wet and cold. Keep your tent dry using these easy tent camping in the rain hacks. 
How To Keep A Tent Dry During Rain
It's important to keep yourself both warm and dry when camping in weather such as snow or rain. There are lots of preparations to be made, such as investing in the correct clothing, choosing a tent, and deciding where and how to set up your tent. These things are all equally important in ensuring that you stay dry during the night. 
The first thing we are going to go over is getting the right gear. Having the right waterproof gear can make even the most disastrous and rainy tent camping trip a lot of fun.
Before embarking on a rainy camping trip, you should have all the necessary gear. This includes clothing, sleeping bags, and even the tent itself. Make sure to choose waterproof items, here are some excellent examples. 
You can actually purchase a tent specifically for keeping the rain out. Not a bad idea if find yourself in rainy situations often. 
KAZOO Outdoor Camping Tent
KAZOO Camping Tents 4 Person Waterproof Instant Tents 4 People Cabin Tent Easy Setup with Sun Shade Automatic Aluminum Pole
✔ EXCELLENT SPACE FOR THE WEIGHT- KAZOO outdoor backpacking tent provides spacious and ultralight tents with enough features. It could be set up perfectly by one person within 3 minutes. This backpacking tent has a spacious room 51inchX82inchX39inch and two zippered doors to make it perfect as a 2 person hiking tent. The tent weighs 5.29lb, which could be defined as a lightweight tent. It could bring you a perfect experience in your tour for camping, hiking, fishing or relaxing.
✔BALANCE OF FEATURES AND WEIGHT- KAZOO outdoor backpacking tent consists of 2 functional layers. The liner is made of B3 mesh and 190T breathable Polyester, Rainfly is made of 210T Ripstop Polyester, we use the best materials to offer you a high performance lightweight waterproof tent. We specifically designed 3 premium 7001 Aluminum poles to offer sufficient stability for this 2 person lightweight tent. Two separated porches are designed to provide additional gears storage room.
✔BEST LIGHTWEIGHT TENT- KAZOO outdoor backpacking tent offers 2 doors and ceiling vents to provide excellent ventilation; which also provide convenience as a 2 person tent. This lightweight camping tent has designed mesh panels on the upper side of the doors to improve ventilation and view. We try our best to balance the weight and stability to make a perfect lightweight waterproof tent. KAZOO backpacking tent provide you with spacious room, multiple functions and good ventilation.
✔KAZOO PAY ATTENTION TO EVERY DETAILS-KAZOO focuses on every detail to make the best tents for various purposes such as camping, hiking, fishing, surfing, outdoor BBQ, adventure, family parties and field trips. The high quality details include but not limited to smooth and reliable SBS dual zippers, mesh interior pockets, incredibly durable rip-stop fabric materials, full-coverage rainfly and firm lightweight structure, to stand up to your biggest adventures.
✔2 YEARS WARRANTY-KAZOO tents are 100% inspected before delivery. We have 2 major series: Camping tent and Backpack tent. The Camping tent designed with a high volume hub to maximize strength and increase living space by using best materials and techniques. The backpacking tent focuses on the ultimate performance such as lightweight, eco-friendly, super sturdy, and ultra weather proof. We offer 2 YEARS WARRANTY.
Last update on 2023-03-01 / Affiliate links / Images from Amazon Product Advertising API
This two person tent has a spacious interior (82 x 52 in), and is perfect for a small family. Its simple design makes for an easy set-up in under five minutes! The additional level to the tent keeps you off of the ground, and away from any water below you. While the top layer will elevate you and keep you away from the water on the ground, both layers are functional.
The top layer is optional, and you can utilize the bottom layer without the top layer. The tent is composed entirely of polyester, making it resistant to rips and harsh weather. Despite being lightweight and small, the fiberglass poles make for a very stable structure. This means that the tent is also very wind resistant, and won't tip over in the case of heavy winds. It comes in three colors and is extremely reliable and convenient for camping trips.
Clostnature Lightweight Backpacking Tent
Sale
Clostnature Lightweight 2-Person Backpacking Tent - 3 Season Ultralight Waterproof Camping Tent, Large Size Easy Setup Tent for Family, Outdoor, Hiking and Mountaineering
WATERPROOF&DURABLE: Polyester rain fly&groundsheet&bathtub with PU 5000 coating are firmer than you expected. Weatherproof material with factory-sealed seams keep you dry and comfortable in all season&all weather condition! Better material but more affordable! You really need an appropriate lightweight 2 person tent for backpacking!
LARGE SIZE&LIGHTWEIGHT: Ultralight 2 person tent! Tent's size 7'3''x 4'11''x 3'10''. Weight: 5.7lbs. Packed Size: 16.5''x5.9''x5.9'', easy to put in one's backpack. Larger than most 2 person backpacking tents and even could fit a little dog more. Great as a boy or a girl scout tent
QUICK SETUP&COMPACT: Free-standing and two Aluminum poles design for lightweight hiking tent's fast pitching. Easily setup by one person with no experience. This ultralight backpacking tent is compact and portable, also great for Hiking, Bikepacking, Kayaking, Mountaineering, Fishing or Car Camping
EXTRAORDINARY DESIGN: Interior entire mesh walls designed to offer great ventilation, this ultralight hiking tent has 2 D-shaped doors and 2 vestibules on the side design provide convenient enter&out and extra storage for your backpack or shoes
WHAT YOU GET: 1 x carry bag,1 x inner tent,1 x flysheet,2 x Aluminum poles,4 x ropes,14 x Aluminum stakes,1 x pole emergency repair kit. Every product you purchased has a one year warranty in material and workmanship defects. We also offer 100% risk-free satisfaction guarantee, if you are not satisfied with it we will be happy to refund
Last update on 2023-03-01 / Affiliate links / Images from Amazon Product Advertising API
While being extremely spacious for two people, this tent is lightweight and perfect for backpacking. Supported by only two aluminum poles, it's very portable and easy to set up. It is also designed to be especially durable and waterproof to help keep your tent stay dry during rain. 
The water resistant exterior fights dampness and keeps you perfectly dry. It also includes a groundsheet and flysheet to put under and over your tent for extra protection.
Oasky's Three Season Sleeping Bag
Sale
oaskys Camping Sleeping Bag - 3 Season Warm & Cool Weather - Summer Spring Fall Lightweight Waterproof for Adults Kids - Camping Gear Equipment, Traveling, and Outdoors
USED FOR 3 SEASONS:Our Sleeping Bags can be used for 3 seasons.They are designed for 10~20 Degrees Celsius. Moreover, these bags also have a weather-resistant design to keep you warm even in extreme conditions and prevent you from any dampness - this is achieved through double-filled technology.our sleeping bags are designed to ensure that after a tiring day of trekking, hiking, travel or any other exploration you can get a good and relaxing night's sleep.
DESIGN: Separated zipper at the bottom can also make your feet often come out through the wind. Half-circle hood with adjustable drawstring keeps your head warmer even in extreme conditions.Our sleeping bags are designed to provide much needed rest after a full day of outdoor activities.
MATERIAL:Outer Cover Material-premium 210T Anti-tearing Polyester Fabric which is waterproof and Breathable; Lining Material:190T polyester pongee
SIZE&EASY TO CARRY:(190 + 30)cm x 75 cm.Can be wiped clean making it versatile and convenient. Each sleeping bag comes with a compression sack with straps, allowing for super convenient storage and easy carry maneuverability
100% SATISFACTION :100% NO QUESTIONS ASKED, no hassle money back or replacement .We try over very best to make sure every customer is completely satisfied. If there's a problem, message us! Order now!At your service,dear.Anyway,thanks for your coming
Last update on 2023-03-01 / Affiliate links / Images from Amazon Product Advertising API
You can't always guarantee your tent keeps the water out. It will be important that if some water gets in, your sleeping bag has you covered. Even the best ways to keep at tent dry during rain can fail, stay dry with a good sleeping bag!
The Oasky's Three Season Sleeping Bag is the ultimate sleeping bag for any type of weather, especially the cold. It comes in four colors, and is specifically made for 35-50 degree weather, but can also be used during the summer. The outside of the sleeping bag is made of polyester, ensuring a waterproof and tear resistant design.
The inside is made of pure cotton, making for a soft and comfortable night's rest. For summertime camping, the sleeping bag has a zipper at the bottom, allowing your feet to come out in hot weather. It also has a small hood at the top to tuck over your head to keep you warm during cold weather. Its slick surface makes it easy to clean and lightweight to carry. 
ECOOPRO Warm Weather Sleeping Bag
Sale
ECOOPRO Warm Weather Sleeping Bag - Portable, Waterproof, Compact Lightweight, Comfort with Compression Sack - Great for Outdoor Camping, Backpacking & Hiking-83 L x 30" W Fits Adults (B-Black)
【Ultra Comfort & Durable】Outer material: Nylon (Waterproof and Durable), Lining:100% Polyester (Breathable and skin-friendly), Premium TC Cotton keeps the temperature from 55 to 60℉ and provides a ultra-comfort sleep environment to people
【Professional Design】The sleeping bag is waterproof and weatherproof. And the smooth zip closure makes it more convenient. Our sleeping bag measures 83"L x 30"W, the size fits for most people. It can accommodate an adult or two children
【Compact & Lightweight Easy To Carry】Unlike down sleeping bags, Our envelope sleeping bag is easy to roll up into the carrying sack and it can be compressed down to just 11" in height and 1.7lbs in weight. It's ideal for backpacking enthusiasts
【MULTIPURPOSE VERSATILITY】You can use our warm weather sleeping bag without sleeping bag liner in multiple weather conditions. It's a perfect sleeping bag for Outdoor camping trips, Boy Scouts or mountain hiking,also works as camping comforter
【Reliable Customer Service】If you have any quality problems, please send us an email and we will reply within 24 hours.
Last update on 2023-03-01 / Affiliate links / Images from Amazon Product Advertising API
This is the ultimate sleeping bag for backpacking. Some sleeping bags can be difficult to roll up and carry around, but this one is designed specifically for compression. It can shrink down to eleven inches in height, weighing only 1.7 pounds.
It's made of nylon and lined on the inside with polyester. The temperature inside stays between 55 and 60 degrees, perfect for camping in cold weather. This sleeping bag traps warmth inside, and fights against dampness on the exterior. 
Positioning Your Tent To Stay Dry
In order to stay dry when camping in the rain, it's important to consider where and how you're setting up your tent. The most important step is placing your tent at an upward angle on a slight incline. This goes for your campfire too. The incline shouldn't be too steep, or else your tent will slide downwards. By setting it at an upward angle, any water that gathers on the ground will slide under your tent instead of pooling on top or dampening the sides.
Another thing to keep in mind, is that in the case of a major storm, your tent should not be placed too close to a body of water. Flooding can be a concern if the storm is severe. Using guylines on the sides of your tent can also protect against wind and keep your tent stable. 
Another thing you will want to remember to to make sure your rain fly is really secure. You want to set it up so there is no slack. When you stake it down, make sure and pull some tension and keep it stiff. This will help avoid any water pooling and keep the water sliding off the side of the tent. 
In addition to using the correct gear and positioning for your tent, you will also need to waterproof the tent itself. Below are some of the best ways to keep a tent dry during rain. 
The tarp below is great for camping and backpacking, click the image to check it out on Amazon! 
Use a groundsheet – A groundsheet is a piece of waterproof material that protects the bottom of your tent. It serves as a barrier between your tent and the ground, allowing water to flow under rather than soak into the tent.
Use a tarp – A tarp can be easily strapped to the top of your tent using a paracord. It can also be tied to trees to hang over the top of your tent. If you attach it directly to the top of your tent, place it at a downward angle so rainwater will slide off easily.
Insulate your tent – 

Insulating your tent will prevent condensation inside the tent, keeping you much warmer and dryer. Use blankets, lanterns, towels, etc.

Use seam sealer –

Although some tents come pre-sealed, not all do. Seam sealer is used on the seams of your tent to seal them, preventing water from getting in.

Stay Warm – Don't just keep try, stay warm! Check out my guide to keeping a tent warm with heaters. I spent a lot of time picking out the best heaters for tents!
How do you pack a tent in the rain? The best way to pack up your wet tent and avoid getting your other gear wet, is to shake off the tent to remove as much water as you can. Then try to use an outer pocket to store it. This will keep your other gear from getting wet, and allow the tent to dry quicker.
Can you put a tent up in the rain? Pitching a tent in the rain is one of the most annoying circumstances to find yourself in. Depending on what type of tent you have, this can be fairly simple. If your tent pops up outward, there won't be any issues. Just make sure to have your tarps and groundsheets ready. However, if your tent exposes the inside when it's being pitched, you should wait until the rain stops. 
What happens if you put away a wet tent? Chances are that if you put your tent away while it's wet, it will be covered in mold or mildew next time you get it out. Because of this, if you have to put away a wet tent, make sure that you dry it out as soon as possible.
How do you clean a tent that got wet? If your tent has been left while it was wet, cleaning it will be absolutely necessary. First use a soft brush to clean any spots affected by mildew and/or mold. Then use a mixture of lysol and hot water to sterilize the mold spots. After cleaning the tent, leave it out to dry in the sun.
Can you put a tent in a washing machine? NO! Do not put your tent in the washing machine. Putting your tent in the washing machine can cause severe damage to the tent. It must be hand cleaned and dried. Avoid putting your tent in the washing machine at all costs, clean and dry it on your own.
All of the above methods are effective, but the best way to camp in the rain is to use a combination of them all. Gather the perfect waterproof gear, set up your tent at an angle, and waterproof your tent. This will ensure you have a very warm and dry camping trip! Don't let some rain keep you from  having a good time. Make sure you are prepared, learn how to keep a tent dry during rain and you will be set!
If you thought this was helpful, please make sure to share on your favorite social media platform, it helps more than you could know! 
Have you ever considered truck bed camping? Check out my ultimate guide to truck bed camping below!